2019 Outlook: ATR begins year in commanding position
Subscription Required
Introduction
Jan. 7, 2019, © Leeham News
: ATR, the turboprop airliner OEM, enters 2019 in a commanding position. Year-end 2018 order numbers for ATR and rival Bombardier aren't in yet. Through October, ATR held 74% of the backlog. Bombardier, buoyed by a large order for 25 Q400s from India's SpiceJet (the 2027 deliveries in the Chart below), had 26% of the backlog. Bombardier contracted to sell its Q400 program to Longview Capital Partners, parent of Viking Air. The Canadian company previously purchased all legacy de Havilland programs, including the Beaver, Twin Otter and aerial firefighting aircraft.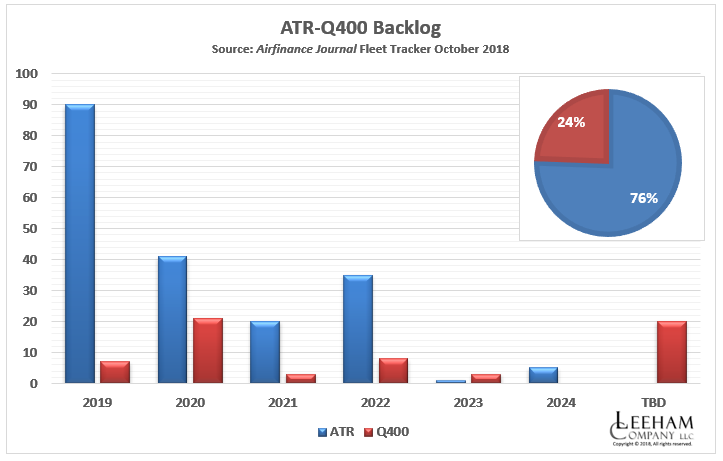 Viking restarted production of the Twin Otter and is gearing up to restart the Beaver. Its plans for the Q400, Q300 and previous Dash 8 programs hasn't been announced.
Summary
Bombardier neglected the Q400.
Small market over 20 years.
ATR would like new program.
To read the rest of the article Login or Subscribe today.
Category: Airbus, ATR, Boeing, Bombardier, CSeries, E-Jet, Embraer, Paris Air Show, Premium
Tags: ATR, ATR 42, ATR-72, Boeing, Bombardier, Dash 8, Embraer, JADC, Longview Capital Partners, Q300, Q400, Spicejet, Viking Air