By Dan Catchpole
June 5, 2019, © Leeham News: Boeing is focused on smoothing out 737 production at 42 aircraft a month for now. Any decision to returning production to 52/month is well down the road, Boeing CFO Greg Smith said Wednesday at the UBS Global Industrials and Transportation Conference in New York.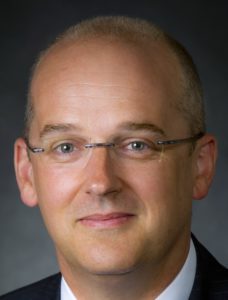 "It's going to be all about stability," Smith said. "And stability is not just about on schedule but ensuring that we've got predictability and accuracy that's more finite than what it's been in the past."
The company had planned to step up production from 52/month to 57/month in June or July. Boeing slowed down production of the workhorse single-aisle in April after a second 737 MAX crashed shortly after takeoff. At the time, it cited the accidents as the reason for slowing 737 production. However, the aerospace giant already had been struggling with production disruptions prior to the crashes. The biggest headache came from slow deliveries from engine-maker CFM, as LNA reported in April.
Industry insiders at the Aviation Week MRO Americas conference in April said Boeing already planned to hit 57/month in September. However, at Wednesday's investor conference, Smith's sidestepped any question about when 737 production could reach that pace.
737 production stability is the priority
Going to 57/month without resolving existing supply chain and production problems "is not the right answer," he said.
"We're hanging engines where engines need to be hung," he said. When CFM deliveries of its LEAP-1A engines fell behind pace, Boeing had to park engineless 737 MAXes anywhere it could find room at its Renton plant and the adjacent Renton Municipal Airport.
"There's still challenges on the shortage side," Smith said. "We've got teams focused more on some of the smaller suppliers."
The production slow down offers a chance for Boeing to review its procurement strategy with some low-cost parts, he said. "Is there a chance to minimize" production disruptions "as we go back up in rate?"
Returning to 52/month will be far easier than hitting that pace the first time. The company and 737 suppliers already made the necessary capital investments and did not cut workers when the pace slackened, Smith said. "We hung onto our resources. People will go back to the jobs they were on at 52/mo."
Most suppliers remained at 52/month, he said.
That inventory should relieve some pressure on the production system when 737 output increases.
Smith said Boeing does not plan on making a decision about increasing production rate until after it has sorted out resuming 737 MAX deliveries and is confident that its supply chain is stable.
Restoring the 737 MAX brand
When talking about getting the 737 MAX back in service, Smith reiterated previous statements made by CEO Dennis Muilenburg and other company officials: Boeing is working hand-in-hand with regulators and customers. It is up to regulators when Boeing's software fixes for the MAX's MCAS program is certified. The company is reviewing its policies and procedures to identify improvements to avoid future tragedies. And so on.
Boeing has pulled people from across the company to work on safely returning the MAX to service. It has brought people in from outside the company, specifically for brand management and crisis management, Smith said.
"We're very clear-eyed on the brand," he said. "We're putting any resources required inside and outside the company to help us restore the MAX brand, and then obviously, the company brand."
That will be no mean feat in the wake of two fatal crashes and questions about Boeing's candor following the first crash. Barclays Capital surveyed 1,756 fliers from North America and Europe after the second crash and found significant apprehension about the MAX's safety among respondents. Forty-four percent said they would not fly on a MAX aircraft for at least a year, and 52% said they would choose another aircraft over a MAX on otherwise identical flights. European fliers expressed more reluctance to board a MAX then did respondents in America.
777X unaffected by 737 MAX re-certification
Boeing's newest jetliner, the 777X, has not been affected by the need to re-certify the 737 MAX, Smith said.
The first two 777X flight test aircraft are on the ramp at Boeing's Everett plant, and the next two are in final assembly there. GE's massive GE9X engine has required retesting, which has slowed progress. However, it is not an issue with the 777X program's production system, Smith assured the conference attendees.
"We still expect to fly this year with a 2020 entry into service," he said.