Subscription Required
Introduction
June 10, 2019, © Leeham News: Embraer is in a holding pattern of sorts.
It's awaiting international regulatory anti-trust approval for the joint venture with The Boeing Co.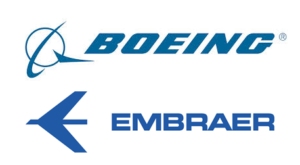 It can't coordinate with Boeing about synergies until these approvals come.
Its leadership is identifying areas that, from its perspective, can lead to synergies.
Some key campaigns for the E-Jet E2 appear to be on hold while customers wait for Boeing and Embraer to join in order to see how pricing may be reset, competition with the Airbus A220 shapes up, what synergies between the E2 and Boeing's 7-Series product lines might emerge and how Embraer's Services unit integrates with Boeing Global Services.