Subscription Required
Introduction
Feb. 11, 2019, © Leeham News: Airbus acquired 50.01% of the Bombardier CSeries program last year.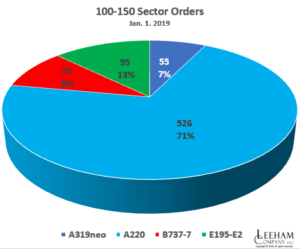 Boeing and Embraer Commercial Aviation received Brazilian government approval last month and now await a nearly-year long regulatory approval process from around the globe.
Based on the announced orders at Jan. 1, Airbus has a 78% share of the 100-150 seat sector following the combinations.
Embraer sold more airplanes in this sector than Boeing: 95 E195-E2s to 70 737-7s.
The former CSeries has 526 orders to 55 for the A319neo.
Summary
14% of the A220 orders are classified as "Red" in LNA's judgment—orders that either should be removed from the backlog or, in one case, is highly questionable due to customer statements.
Another 11% of the A220 orders are classified as "Yellow," primarily due to region risk.
Synergies between A220 and A320 are greater than E2 and 737.