Aug. 31, 2015, © Leeham Co. September begins tomorrow and we're only nine weeks away to the 2015 Dubai Air Show.
We're looking to this event to be the last big opportunity for major airplane orders for this year. While it's true that Airbus, Boeing and the other
OEMs make a big year-end push to top off the order book, the Dubai show has become increasingly on a par with the Farnborough and Paris air shows, but focused on wide-body orders and program launches.
Eyes on the Dubai Air Show will be watching for what could be would be this year's prize catch: whether Emirates Airlines will be ready to place the oft-talked about order for 50-70 Airbus A350-900s or Boeing 787-10s. (Some have floated an even higher number.) The other big item of interest: whether Airbus will launch the A380neo.
Tim Clark, president and COO of Emirates, is adamant there is no linkage between the prospect of an A380neo and the medium twin-aisle order. Clark, of course, is the strongest advocate for re-engining the A380. Qatar Airways CEO Akbar Al-Baker said if the A380neo is launched, he'll order some. Lufthansa Airlines said Airbus has to do the neo if it's to regain the lead in seat mile costs over Airbus' own A350-1000 and the forthcoming Boeing 777-9.
These are the only public declarations of interest I've seen.
Airbus might have gained some advantage with the expected launch of the A350-900LR, which adds about 600nm to the range of the airplane at the expense of some passenger seats. The range is now computed to be about 8,500nm. The 787-10 now has a range of less than 6,500nm under Boeing's new Standard Rule data.
Boeing continues to comfortably lead in the wide-body backlog.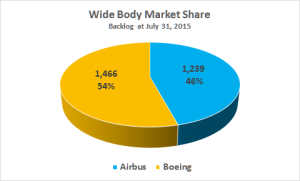 Figure 1. Wide Body Market Share: Sources: Airbus, Boeing, at July 31, 2015.
Boeing's lead is boosted by its dominance in the freighter market, where it has a backlog of 147 747-8F, 767-300ERFs and 777Fs to a meager 10 A330Fs for Airbus. This is a 94% market share for Boeing. (The Boeing KC-46A and Airbus A330 MRTT are not included.) In terms of passenger aircraft only, Boeing has a 52% market share of the backlog.
Figure 2 shows the data at July 31, 2015, from the Airbus and Boeing websites: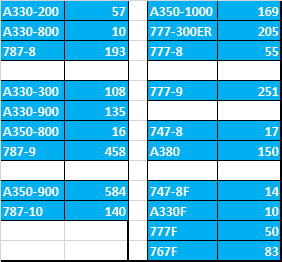 Figure 2: Backlogs at July 31, 2015. Sources: Airbus and Boeing.
The aircraft are grouped by seating capacity to best show how the aircraft stack up against each other.  Airbus does not have a competing offering to the Boeing 777-9.
Figure 2 indicates the bragging rights at stake for the Dubai Air Show.
The aerospace world will be watching.