By Alex Derber
July 16, 2018, (c) Airfinance Journal: Day One of Farnborough 2018 belonged firmly to Boeing in terms of firm orders,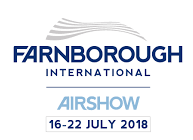 although the US manufacturer saved up many of its largest announcements from deals done earlier in the year. Airbus, meanwhile, almost achieved parity if one includes softer commitments from airlines and lessors, although there were some speculative deals, notably a memorandum of understanding (MoU) for 17 A350s from Starlux, a Taiwanese start-up not yet in business.
Other noteworthy deals included lessor Jackson Square Aviation's first new aircraft order and United decision to buy E175s rather than the newer E2 variant.
Aircraft announcements:
Jet Airways was confirmed as the airline behind an order for 75 737 Max 8s previously unidentified by Boeing. It is an additional Max order for the Indian airline, which received its first Max in June 2018.
Salamair signed an agreement to add six Airbus A320neo aircraft to its fleet, of which it will lease five from an undisclosed lessor. The Omani low-cost carrier currently operates three A320s.
Gol converted 30 Boeing 737 Max orders to the largest Max 10 variant and ordered 15 additional Max 8s. The Brazilian carrier now has 135 orders for Max-family aircraft, the first of which it received in June 2018. Deliveries will continue through 2028.
United Airlines ordered 25 Embraer E175 regional jets that will be delivered from the second quarter of 2019. Almost 400 Embraer aircraft already operate in the United Express regional network.
Goshawk Aviation ordered 20 Boeing 737 Max 8 aircraft. It is the Dublin-based lessor's first direct order from Boeing.
Macquarie AirFinance ordered 20 Airbus A320neo aircraft. It is the first A320neo order from the lessor, which has an existing Airbus portfolio of 110 A320-family aircraft and nine A330s.
An undisclosed lessor signed a memorandum of understanding (MoU) for 80 Airbus A320neo-family aircraft. Engine selection is still to be made.
Goshawk Aviation ordered 20 Airbus A320neos. The Dublin-based lessor has not chosen an engine yet.
Urumqi Airlines agreed a letter of intent for 20 Comac ARJ21-700 aircraft. If firmed up, this would make the Chinese carrier a new customer for the aircraft.
Tarom ordered five Boeing 737 Max 8s.
Wataniya Airways firmed up an order for 25 Airbus A320neo-family aircraft following an MoU at the 2017 Dubai air show. Golden Falcon Aviation, the exclusive aircraft provider of Wataniya, is the purchaser.
United Airlines ordered an extra four Boeing 787-9s. It has now placed orders for 55 787-8, 787-9 and 787-10 aircraft, with the latest four set to be delivered in 2020.
Vistara signed a letter of intent (LoI) for 13 Airbus A320neos and committed to rent an additional 37 from lessors.
Qatar Airways ordered five Boeing 777 freighters to add to the 13 it already operates. The deal was announced as a commitment in April.
Jackson Square Aviation became the 100th Boeing 737 Max customer with an order for 30 Max-family aircraft. It is the lessor's first direct purchase from a manufacturer.
DHL placed an order and commitment for 14 Boeing 777 freighters and took purchase rights for seven additional freighters. A portion of the order was previously unidentified on Boeing's website.
Starlux Airlines signed an MoU for 12 Airbus A350-1000s and five A350-900s to support the Taiwanese carrier's launch of long-haul services in 2022. Separately, Starlux has said it will receive the first of 10 leased A320neos from October 2019.
Sichuan Airlines ordered 10 Airbus A350s, finalising a deal announced earlier this year. The Chinese carrier will also lease four A350s.
European turboprop manufacturer ATR announced a batch of orders and commitments from five customers ahead of the air show. On 13 July it released details of nine orders:
Air Botswana signed a firm order for two ATR72-600s.
Druk Air ordered one ATR42-600 unit.
Aurigny Airlines inked an LoI for the purchase of three ATR72-600s
Air Saint-Pierre signed an MoU for a new ATR42-600.
EWA Air signed an MoU for two ATR72-600s.
Engines announcements:
Middle East Airlines selected Pratt & Whitney PW1100G engines to power 11 A320neo-family aircraft on firm order.
Vistara Airlines signed an LoI to buy 26 CFM LEAP-1A engines to power 13 additional Airbus A320neo aircraft.
Yunnan Hongtu Airlines will buy CFM56-5B engines to power three Airbus A320 aircraft.
Sichuan Airlines selected the Rolls-Royce Trent XWB engine for an order for 10 Airbus A350 aircraft. The Trent XWB is the only engine choice for the aircraft.
Starlux Airlines will order Trent XWB engines if it confirms an order for 12 A350-1000s and five A350-900s.