March 5, 2018, © Leeham Co.: The three engine makers, CFM/GE, Pratt & Whitney and Rolls-Royce, are the only suppliers that have been brought "inside the tent" by Boeing for the New Midrange Aircraft, a company executive said today.
Launching the program is critical on the engine companies, says Randy Tinseth, VP marketing for Boeing. Boeing hasn't decided—officially—whether it will have a
single-engine or dual-engine source for the aircraft because the program hasn't been launched.
Market intelligence tells LNC that Boeing wants two engine choices. Intel also indicates all three engine OEMs view the market demand as sharply smaller than Boeing's publicly-stated forecast of 4,000 Middle of the Market sector airplanes over the next 20 years.
Market Demand
Boeing sees the NMA as a game-changing, market disruptor that others don't understand.
"We believe it truly has the ability to disrupt the market," Tinseth said on a conference call with reporters.
"We continue to make progress. Things around the configuration and capability of airplane are coming together," he said. "This is the first multi-market airplane that we build that will be effective in short range markets and replace wide body airplanes that are bloated and heavy to operate."
Tinseth said the 797 will have 40% lower than trip costs vs widebody airplanes it replaces (the 767s, A300s and A330s) and generate 30% more revenue than single aisle aircraft.
Entry into service is still targeted for 2024-25.
"If it goes beyond that, it will be a challenge," he said.
Long, thin routes
The 797 is targets for mid-range routes with an expectation that it will open new markets. During the press conference, Tinseth pointed to the routes operated by 737s that are more than 3,000 miles.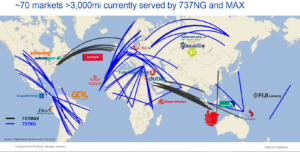 The 737 is serving more than 70 routes of 3,000 miles or more, Tinseth said.
The map illustrates this—and seems the harbinger of one crucial element of the business case for the New Midrange Airplane, the NMA or 797 as it's already commonly called.
The NMA is intended to be a 767-sized airplane of 220-270 passengers, 2x3x2 coach configuration and with a range of 5,000nm and 4,500nm respectively. Boeing continues to talk with customers about the aircraft. Authority to offer for sale may come by year end. A formal program launch is expected next year, after the 777X development is over the hump. The 777X is expected to enter flight testing next year.
The 787 has opened 170 markets since EIS, which required 200 airplanes. This doesn't fill the demand gap between what the engine OEMs see—they're fairly in agreement in their market forecasts of 2,000-2,500 airplanes—and the 4,000 Boeing sees.
LNC sees a demand of about 2,300 aircraft and this is also consistent with some suppliers.