Boeing, Embraer tie-up key to NMA development
Subscription Required
Introduction
July 9, 2018, © Leeham News
: When Boeing and Embraer announced last week the Memorandum of Understanding to form a joint venture between Boeing and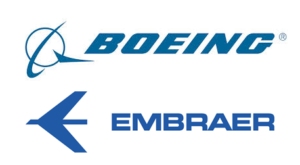 Embraer Commercial Airplanes, writers and analysts jumped on the bandwagon that
LNC
pointed out as far back as last year.
Summary
This is:
A strategic play;
About Embraer's engineers and low-cost production in Brazil;
About tapping Embraer's resources for development of the potential Boeing New Midmarket Aircraft; and
About EMB's potential lead in developing a new single-aisle aircraft to replace the 737, among other things.
Additionally, a Boeing partisan sees new trade complaint against C Series. Related stories:
To read the rest of the article Login or Subscribe today.
Category: Airbus, Boeing, Bombardier, CSeries, Delta Air Lines, Embraer, New Midmarket Aircraft, NMA, Premium
Tags: 737-7, 797, A319neo, Airbus, Boeing, Bombardier, C Series, CS100, CS300, Delta Air Lines, E190 E2, E195 E2, EJet E2, Embraer, New Midmarket Aircraft, NMA