April 27, 2020, © Leeham News: There is a great line in the movie, The Untouchables. Sean Connery's character tells an assassin that he's bringing a knife to a gunfight.
That's what came to mind when Embraer says it will seek remedies against Boeing following the latter's terminating the joint venture agreement between the two companies.
In the movie, the assassin lured Connery into a trap. Connery was gunned down by a machine gun. But don't expect Boeing to be lured into any trap by Embraer.
Boeing doesn't pull a move like this without thinking through all the possibilities. It may muff the thought process, as will be noted below, but it does think through alternatives.
Embraer's claims
Boeing said Embraer failed to meet all the terms and conditions of the Master Transaction Agreement. Therefore, it was terminated, the company said Saturday.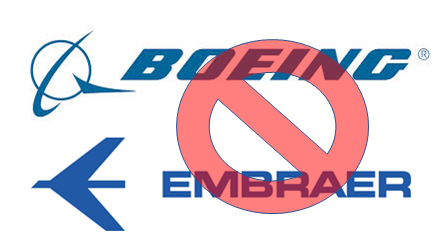 Embraer countered that it did. EMB claims Boeing terminated the MTA because it can no longer afford to pay the $4.2bn in cash and because of its own problems with the 737 MAX and reputational issues.
It was an unusually harshly worded press release.
Embraer didn't say how much it plans to claim in its "remedies."
Airfinance Journal reported that Embraer spent more than $100m carving the commercial unit out of the company. LNA understands the amount exceeds $121m.
But this cost is only a fraction of what Embraer is likely to claim.
Lost business opportunities, reputational damage and other claims are likely.
Officials said in the past that orders for the E2 were slow in part because customers were waiting for the Boeing deal to close. Absent any information for outsiders, it's impossible to estimate a price tag for these lost sales.
But hypothetically, only 50 orders at an average of $25m each would come to $1.25bn in revenue. Just how much of this would be actual profit is the key and the likely subject of part of any claim. LNA believes the profit margins to be 10% or less.
In the nearly 1 ½ years since the JV was announced, it might not be too hard to claim at least 50 orders were put on hold awaiting the consummation.
Look at the stock prices of Boeing and Embraer today. Friday's close for Boeing was $128.98 and $5.82 for Embraer (on the US exchange). Market caps Friday were $77.77bn and $1.086bn, respectively. It Boeing's stock goes up now that it's not obligated to pay out $4.2bn, this is likely to be noted in Brazil. If Embraer's stock goes down, this, too, will likely figure into a damage claim.
The perception on the market is that Embraer is in a weaker position now, alone, facing Airbus' A220. This, too, likely will be part of the claim.
Boeing's position
Boeing remains mum about why it believes Embraer didn't fulfill all its obligations under the agreement.
However, Boeing is well known for taking strong defensive legal positions. After the 737 MAX was grounded, its legal department wrote some lessors initially denying any compensation claims. Boeing claimed the grounding is an "excusable delay." According one lessor, Boeing invited the company to sue it if it wanted to pursue a claim.
Similar action was taken when the 787 was grounded, LNA is told.
Boeing took an extremely aggressive legal position when it filed a complaint with the US Department of Commerce in 2016 alleging Bombardier sold the C Series to Delta Air Lines through price dumping. Among the assertions was that tiny Bombardier, a junk credit-rated company, would eventually destroy Boeing and with it the entire US aerospace industry. This novel theory was widely derided by objective observers.
Boeing won the case at Commerce, which was expected, but lost before another agency that had to determine whether Boeing had been "harmed" by the Delta deal.
It was a miscalculation by Boeing of major proportions.
Steve Trimble of Aviation Week, who has an astute sense of reality and a wicked sense of humor, aptly summed up how Boeing muffed its thought process that led to today's predicament:
"The Boeing/Embraer JV is dead. All because Boeing brought an anti-dumping complaint against Bombardier over the Delta C Series order, which prompted Airbus to acquire the C Series program, which motivated Embraer and Boeing to team up."
Knife to a Gun Fight
Embraer by revenue and market capitalization is but a fraction of the size of Boeing, even in the latter's present circumstances.
But just as Bombardier took a knife to a gunfight, it ultimately prevailed.
Embraer officials are livid.
Expect a lawsuit to be filed in US courts. The Master Transaction Agreement provides for governing law to be New York. This doesn't necessarily mean a lawsuit would be filed in New York, however. Boeing is headquartered in Chicago, so Illinois Federal Court is another potential venue.