July 27, 2017, © Leeham Co.: It's mid-way through 2017 and LNC is taking its second look at production and delivery stream flows for the Big Four airframe manufacturers.
We examined Boeing Monday in advance of its earnings call Wednesday. Today we look at Airbus in advance of its earnings call today. We look at Bombardier and Embraer next Monday.
We use the Airfinance Journal Fleet Tracker as the basis for our exam.
A380
The A380 is in a very tenuous position.
Boeing finally threw in the towel on the 747-8I and the entire Very Large Aircraft sector in its 2017 Current Market Outlook (CMO) revealed at the Paris Air Show last month.
Airbus at the PAS revealed its study for the A380Plus, a series of aerodynamic and cabin configuration changes that have a goal of improving the economics by 13%. But even this is dependent upon whether the A380's largest customer, Emirates Airline, buys into the program.
Two weeks earlier, Airbus revealed at the annual meeting of the International Air Transport Assn. (IATA) that it is studying dropping the A380 production rate below the current 12/yr in 2019. Despite several questions, officials refused to say just what rate they are considering.
A review of Fleet Tracker enables some conclusions. We believe Airbus must drop the production rate to six or seven per year, given the dicey quality of the orders.
According to Fleet Tracker, Amedeo, Hong Kong Airlines (Unidentified on the Airbus website, but ID'd in Fleet Tracker), Qantas, Virgin Atlantic and Air Accord all are scheduled to received A380s in 2019. These account for six aircraft, out of 11 slated for delivery.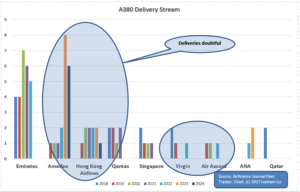 Amedeo has been deferring its orders, as has Virgin Atlantic and Hong Kong. Qantas previously indicated it didn't want more A380s.
Emirates and Singapore are scheduled to receive five aircraft.
In 2020, Emirates is scheduled to receive seven and Singapore one. There are five others scheduled for delivery to the same questionable customers.
We expect Airbus and Emirates to adjust the delivery schedule slightly to smooth out production and Airbus to target a rate about half that of today. Airbus denied a report from a French media that the rate reduction will be to 8/yr. Perhaps there will be some information from the earnings call today.
A350
Nine A350-1000s are supposed to be delivered this year. Continued delays from suppliers hit A350-900 deliveries and, presumably, A350-1000s. LNC sees several A350s potentially slipping into next year. Regardless, inventory is being built up and next year's deliveries exceed the production rate because of this–although Airbus plans to go to rate 10/mo sometime during the year. Inventory build up and deliveries the following year exceeding the production rate is not an unusual circumstance for Airbus, Boeing or other OEMs.
Deferrals appear to be opening early delivery slots. Airbus has an issue with the A350 in the USA. A softening of international traffic caused Delta Air Lines to defer some early A350s. Over at American Airlines, the A350 was ordered by US Airways. When this carrier acquired American, which ordered the Boeing 787, the surviving management (US Airways) found itself with two wide-body airplanes for the same mission. America's 787s began delivering before the A350s, and AA deferred the latter.
Fleet planning on what to do about the A350s continues. Airbus and American are talking about down-grading the A350 to the A330neo.
At United Airlines, legacy UAL ordered 25 A350-900s. When Continental Airlines acquired United, the CO management upgraded these to the A350-1000 and added 10 orders. Later, Boeing offered United cheap ($120m range) 777-300ERs in its campaign to fill the 777 Classic skyline bridge to the 777X.
The A350-1000s were intended to replace the Boeing 747-400s. The addition of the 777-300ERs enabled United to accelerate this replacement. Now, the -1000s are an airplane that is duplicative to the -300ER. United deferred the -1000s while in discussion with Airbus over the future of the A350.
A330
With a production rate of 6/mo, Airbus has challenges next year.
According to the Fleet Tracker, Airbus has a production gap not only next year but going forward as well.
Further complicating: Hawaiian has the only six orders for the A330-800. John Leahy, COO-Customers, earlier said Airbus doesn't want to even proceed with the -800, but has since reversed his position.
American Airlines appears more interested in the -800 than the -900 as replacements for the Boeing 767-300ER. Boeing is offering its own solution. AA selecting the A330-800 would be a way out of the A350-900. Pre-production on the A330-800 is underway.
Hawaiian has cancellation rights for the -800 and is said to have launched a competition between the Boeing 787 and the Airbus A350-900.
A320
Airbus' hand-wringing frustration with Pratt & Whitney GTF-powered A320neos is well known and doesn't need much recap here.
Delivery schedules are all bollixed up and may well go into next year to fully sort things out. The delivery scheduled in Fleet Tracker may or may not take these extraordinary events into account.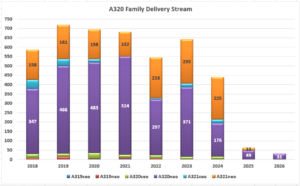 Setting this aside, Airbus is scheduled to deliver 585 A320ceo/neo family members next year and 718 in 2019. There's a dearth of delivery slots until 2020-2021, and there aren't a lot then.
That said, some moving around within the skyline could occur if some customers get pressed financially.
Qatar Airways is still showing up in 2018, but the industry knowns its mercurial CEO, Akbar Al Baker, wants to reschedule to a year or two later. Norwegian Air Shuttle, which is under pressure, is likewise a 2018 customer.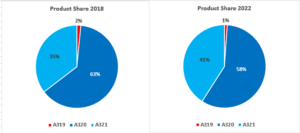 The A321 represents 35% of family deliveries next year, increasing to 41% in four years, based on current orders. But there is a lot of room left in the production to be filled. From a peak of 718 deliveries currently scheduled in 2019 (equal to 60/mo), the skyline drops to 545 in 2022.
Next: Bombardier and Embraer.