By Bjorn Fehrm
19 January 2016, ©. Leeham Co: When Willie Walsh, the CEO of IAG, said that the Airbus A340-600 "is a fantastic aircraft at fuel below $60 a barrel but perhaps not at $120," he put operational words to something the Growth Frontiers 2016 conference in Dublin had been grappling with since it opened on Monday morning.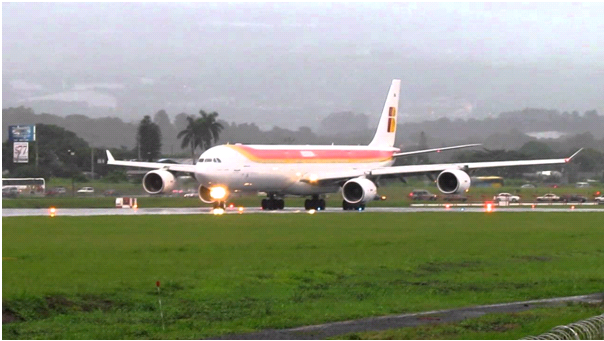 What is going to happen now? Crude is falling below $30 a barrel and Jet fuel is below $1 a gallon. This must have an effect on how people decide, whatever the lessors and aircraft OEMs say.
And it had to be a senior airline CEO that broke the mantra that everyone was repeating: "We don't see fuel prices having any effect on fleet planning for airlines."
Earlier Peter Morris, chief economist at Ascend, had shown that the underlying basic demand for air travel stays intact, regardless of hic-ups on the Chinese stock markets. China's people have decided they will go to meet relatives at Chinese New Year and they will continue that even if stockbrokers in Shanghai are nervous.
So "have money" and "will travel", only question is on what airplane? New or old?
Morris then showed a curve on how the premium lease rate for an Airbus A320neo declined according to Ascends models as a result of oil price going down. The value of a fuel efficient A320neo is simply not the same with fuel at $4 a gallon versus $1. Something will happen and Morris showed in the graph what Willie Walsh put in words. The values of fuel guzzlers versus zippers just don't stay put when fuel change at four to one.
The Walsh speech was preceded with the oil price experts' panel where Standard Chartered's Paul Horsnell and Mike Corley, Mercator Energy advisors, could agree that none of them knew what would happen next. Whereas last year Horsnell on the same stage was pretty sure we'd soon be back to about $60 a barrel, now they were adamant "we don't give any forecast; no one knows what will happen."
Corley said that what could happen was a further fall to $20 but then it would most likely bounce at that level and raise back up quickly. But he was not sure. That he repeated over and over again.
Horsnell said the whole party was spoiled by the Saudi Arabians, who kept on producing 2m barrels more per day during the year than everyone had predicted. This made the prices go south and the Iranians coming to peace with the world over the weekend did not help. They will be hungry for oil cash now that they can repair their production wells and pump faster.
AerCap's CEO, Angus Kelly, then took the stage and we were back in mantra mode. "We don't see a decline in airlines appetite for the latest fuel efficient models." My row colleague nudged and whispered, "so all is fine; would one expect anything else."
The fact is that things have changed. Our analysis of the Boeing 767 as a refresh long-hauler a week ago shows that it is once again a good choice if the lease is short. The sale of a super-efficient Bombardier CSeries is difficult to that major airline when a re-engined Boeing or Airbus model that they already operate is only a single digit less fuel efficient.