By Bjorn Fehrm
18 January 2016, ©. Leeham Co in Dublin: Willie Walsh, the CEO of IAG (which is the holding of Brittish Airways, IBERIA, Vueling and Air Lingus) spoke at the Growth Frontiers 2016 conference in Dublin about how the new IAG has become more agile in following market changes to opportunistically increase its operational efficiency.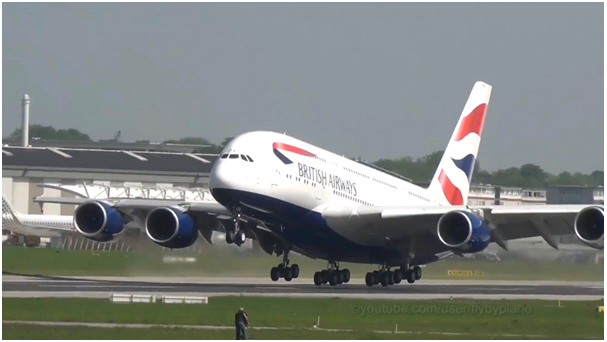 Walsh gave the example of IAG's aircraft fleets where he announced that it is looking to lease five to six used Airbus A380s in addition to the ones that British Airways (BA) already have on order. These could be aircraft for BA only use but also for a joint BA and IBERIA operation.
Walsh spoke about the A380 as he was speaking about the transformation that had taken place at the different operating companies in the IAG group. As an example of successful changes in their operating practices, he took the examples from their fleet strategy and started with the A380.
It is a "fanstastic aircraft when you can fill it" Walsh said, but it is inflexible. It only works at certain segments of your network where you can fill it and where frequency is not of prime importance. But when it fits, it brings "fantastic results. Not only could we lower cost by flying two A380s instead of three Boeing 747s between London Heathrow and Los Angeles or one A380 and one Boeing 777 to Washington instead of three 777s, but we also gained a precious Heathrow slots in each of those changes".
"So the A380 works extremely well for us and we are prepared to increase our fleet beyond the 12 we are planning to get. But the options we have for A380s are expensive. We will instead do something unusual for BA," he said. "We will go for used aircraft and lease them. It shows how BA has changed; we are prepared to adapt to a changing market and to take opportunities that come our way."
Walsh said that "another opportunity we also look at is leasing 777-300ERs. We brought the 777-300ER late into our fleet, actually too late. It is a very effective and flexible aircraft. We now see that we could need more and once again we are prepared to lease these. Again something that the old BA would not do.
"A final example of how we react to changes in the market is the question of the A340-600 in IBERA's fleet. These are really good aircraft for IBERIA's South American destinations," he said. "But it is not a great aircraft with fuel at $120 a barrel. At $60 or below it is a very attractive aircraft, so while we might have planned to replace it at a certain time previously, we now see no reason to look into changing that aircraft as long as the fuel price stays at the present low levels."