July 10, 2018, (c) Leeham News: JetBlue announced an order today for 60 Airbus A220-300s, nee Bombardier CS300s. The airline took options on 60 more.
The timing is a surprise–JetBlue previously said it would not be ready to order until toward the end of the year.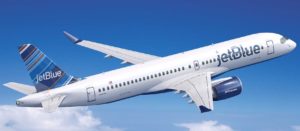 The order is a blow to Embraer, which has 60 E-190s in service with JBLU. The airline had orders for 20 more, but delivery had been deferred several times. Industry insiders told LNC the order could be canceled with little or no penalty.
The order is a blow to Embraer for the flip and for the loss of a potential E2 order. The E195-E2 seats slightly fewer passengers and has less range than the A220-300.
JetBlue has a large fleet of Airbus A320ceos, a few A321ceos and a large order book for neos.
The airline sided with Bombardier in the Boeing trade complaint against the CS100 order by Delta Air Lines in 2016. JetBlue, along with Spirit Airlines, wrote letters supporting Bombardier against charges by Boeing that the Delta deal was supported by unfair and illegal government subsidies and harmed Boeing. The US Department of Commerce upheld Boeing's complaint, but the International Trade Commission unanimously rejected claims of harm to Boeing.
Concurrently with this order, JBLU swapped orders for 25 A320neos to A321neos.
Pratt & Whitney GTF engines are the exclusive engine on the A220. The GTF will power the JBLU neos.
This order gives Airbus a good kick going into next week's Farnborough Air Show.