The next decade will see an extraordinary number of new and derivative airplanes entering service, beginning next year with the Boeing 787-9 and ending in 2022 with what we believe will be a replacement for the Airbus A330.
Bombardier's CS100 is currently planned to enter service in around September next year, 12 months after its first flight on September 16, 2013, but we think EIS will slip to early 2015. Bombardier seems to be laying the groundwork for this in statements that it will reassess the EIS date in a few months.
Beginning with the 787-9, there is a steady stream of EIS dates–and a couple of end-production dates of current generation airplanes.
This chart captures the airplanes and their dates. Most dates are based on firm announcements from the OEMs, but we've adjusted some based on market intelligence and our own estimates.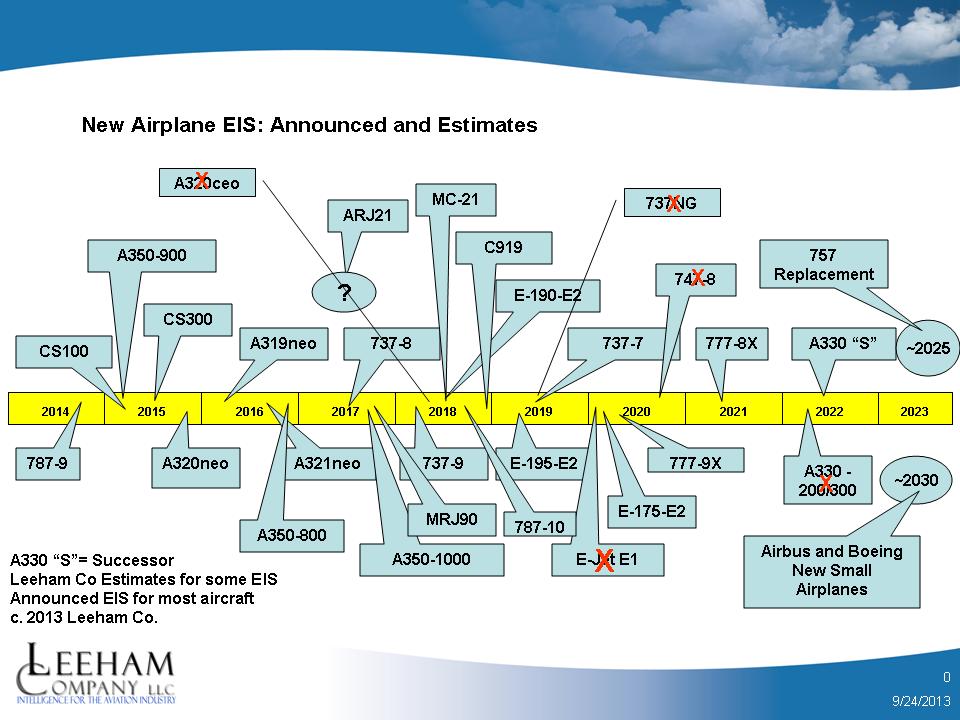 .
The arrows to certain points within years are not necessarily representative of specific timelines within that year. OEMs generally are not too specific about and EIS date, preferring to say "first half" or "second half" or some derivative of ambiguity. The only specific that we're aware of is Boeing's revised EIS of the 737 MAX, from 4Q2017 to July 2017. Although the Ascend data base is quite specific, we've not attempted to be highly specific in this chart. (Have we been specific enough about all this?)
Readers will note that we have the ARJ21 arrow going to a question mark. This airplane is already seven years late, and supposedly it's going to enter service next year, but we aren't banking on this at all. COMAC/AVIC, producer of the ARJ21, has a dismal record of meeting target dates. Accordingly, although COMAC now says the EIS for the C919 is 2017, we've got this in 2018–and even this is likely generous.
Just as we've moved the CS100 slightly to the right, we've also done so with the Airbus A350-900. The first delivery in set for 2H2014 (July, to be precise, according to Ascend), but the second A350 test plane has yet to enter service and Airbus previously said that although the first flight wouldn't be delayed following a wing production factory issue, subsequent FTVs (to borrow Bombardier's term) would be. Ascend shows only seven A350s scheduled to be delivered next year; given the history of new airplane programs, we're moving EIS to early 2015.
The end-production dates for the Boeing 737NG and Airbus A320ceo families are based on public statements by both OEMs that there will be a two year overlap with the re-engined products. Based on this, we assume the current generation E-Jet will also likely see a two-year overlap, but this is our conclusion and not from the OEM.
Likewise, the illustrated end production dates of the 747-8 and the A330 are our conclusions based on market intelligence and our best judgment, and do not reflect statements from the OEMs. However, Bloomberg News has this story quoting Airbus' John Leahy that A330 production could continue for a decade, so we're in the ballpark.
Sharp eyes may note that we don't have an end-production date for the current generation 777 family. Applying the two year "rule," this would suggest a date of 2022. But we think the 777-200LRF will live on in the form of a KC-777 (ultimately to replace the KC-10), and with it freighters, even though Boeing has said the 777-8 will eventually be offered as a freighter. Will Boeing continue to offer the 777-300ER in a scenario similar to the Airbus plan to continue selling the A330, overlapping the A350 by many years? We tend to doubt it, but we don't have enough market intelligence to draw a conclusion for inclusion in this chart. Boeing has talked about the 777X being a full-on successor to the current 777, which suggests the -200 series would go, but our intel suggests otherwise because of the tanker potential. The 777-8X, which is essentially the replacement for the 777-300ER (though slightly smaller), probably will make the -300ER redundant.
Note that we have two airplane programs off-the-chart, so to speak: a Boeing 757 replacement c. 2025 and a clean-sheet replacement for the A320neo and 737 MAX families c. 2030. Boeing sees a need for a 757 replacement (and said so during the Paris Air Show briefings), and Airbus sees a replacement for current generation single-aisles around 2030. We think the latter might be advanced a year or two, but this is too far out to be more specific today. A decision on the 757 replacement would need to be made around 2017, given recent history of eight-year development timelines.