Exclusive interview with Robert Saia, vice president of the Next Generation Product Family at Pratt & Whitney.
PW believes it has a "good understanding" of what happened.
Flight testing might resume quickly, reducing risk of program delay.
Customers coming to previously scheduled Bombardier meeting, will be permitted to see the airplane.
CSeries EIS delay not expected.
Bombardier, already facing an 18-24 month delay for its CSeries, may face another delay, some fear, following Friday's reported uncontained engine failure of the Pratt & Whitney P1500G Geared Turbo Fan engine.
BBD grounded its four test airplanes while an investigation gets underway. The engine failure also damaged the fuselage of FTV 1. FTV 4, the airplane in airline configuration that is to validate economic promises of the GTF, had only been on three or four test flights in the slow-moving testing program. FTVs 2 and 3 have been flying for some time. FTV 5, 6 and 7 had not yet taken to the air.
There was a reported fire associated with the failure, but this is unconfirmed. Smoke was filmed during the event, but based on information Saturday, it's unclear if a fire actually occurred, according to a person close to the investigation. The airplane was on the ground in Montreal at the time, and the four crew members were uninjured.
BBD, PW and Transport Canada are all investigating.
Engine failures during testing are rare but not unknown.
The Wall Street Journal noted:
A Rolls-Royce Holdings PLC engine for a Boeing 787 Dreamliner suffered an uncontained failure in August 2010, traced to excessive engine oil during a ground test at the company's Derby, U.K. facility. The failure on the engine due for one of Boeing's test aircraft slowed its planned deliveries by several weeks and was one of several delays that slowed Boeing Dreamliner development.
Canada's Financial Post wrote:
In 2012, a Dreamliner doing high-speed taxi tests spewed debris from its General Electric Co. engine, igniting a grass fire along a runway at the Charleston, South Carolina, airport near Boeing's new factory.
The incidents caused delays to the troubled 787 testing program, but causes were determined relatively quickly.
Variants of the GTF have been selected for the CSeries, the Airbus A320neo family, the Embraer E-Jet E2, the Irkut MC-21 and the Mitsubishi MRJ. The projected entry-into-service dates are shown below.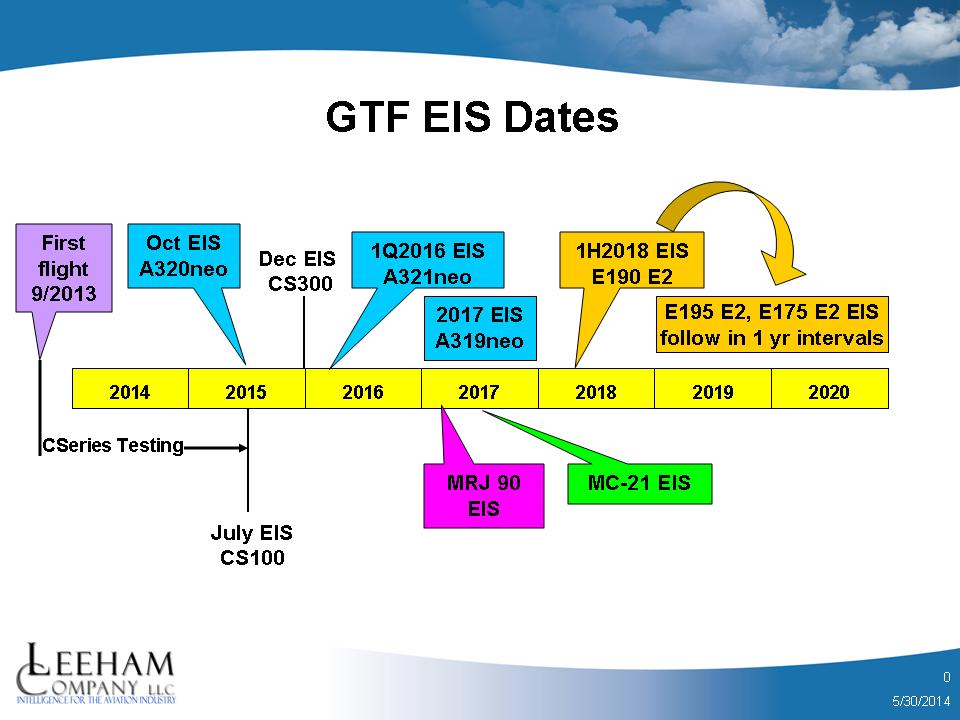 Robert Saia, vice president of the Next Generation Product Family at PW, told Leeham News in an exclusive interview Saturday that progress has already been achieved on the investigation.
"We believe we have a good understanding of what happened and understanding the root cause," he said. "If we are correct, it will be a quick resolution."
Bombardier is taking the event "very seriously," an official told us. We understand that FTV 1, while damaged, will be shown to customers who were previously scheduled for a meeting this week.
Saia told Leeham News that it appears from the initial review that this event could be an anomaly and not a design issue, but cautioned it's too soon to draw any conclusions."The likelihood of this being a design issue is pretty low," Saia said. The Wall Street Journal, citing an unidentified source, gave a somewhat contradictory indication.
The investigation is proceeding rapidly and an understanding could come within days.
The Bombardier official noted that the engines on FTV 1 are prototype engines, not production engines, which are fitted on FTV 4.
The event raised immediate concern whether this could delay the entry-into-service of the CSeries CS100, scheduled for the second half of 2015. CS300 EIS follows by six months. According to information, these are July and December.
"We're working very hard not to let [a delay] happen," Saia said. The event won't affect the GTF for the Airbus A320neo, he said, which is now in testing.
When Bombardier rescheduled EIS from the third or fourth quarter this year to the second half of next year, some additional margin was built into the delay, we are told.