Feb. 27, 2017, © Leeham Co.: When Boeing announced it will reduce 777 production to 5/mo, with actual deliveries of the 777 Classic to 3.5/mo beginning in 2018, the aerospace analyst at Goldman Sachs immediately concluded Boeing will have to reduce the rate to 2-2.5/mo.
Since then, and other analysts (whether publicly or privately) reached a similar conclusion.
On the 4Q/YE2016 earnings call in January and again last week at a Barclays conference, company executives said 90% of the positions in 2018 and 2019 are sold.
Shortly after the Barclays conference ended, one analyst called me to challenge the assertion by Greg Smith, Boeing's CFO, about 2019. By his assessment, the analyst could only get to 60% in 2019. Did I see anything differently?
59% or 74%, but not 90%
At that point, I hadn't looked. When I did later, I got to 59% based on firm orders. I could get to 74%, giving Boeing every benefit. But I couldn't get to 90%.
Here's what I did, using the Ascend data base and Boeing's information on its website.
According to the Boeing website, there were 103 777-300ERs and 32 777Fs Unfilled at Jan. 31, 2017, or 135 total.
According to Ascend at Jan. 15 (last time I pulled the numbers), there were 133 firm orders—pretty close—15 LOIs (Iran Air) and 39 Options (mostly EK and Etihad, with the balance SQ). EK previously said it doesn't want to take any more -300ERs, though certainly this might change.
Ascend shows the delivery distribution at follows: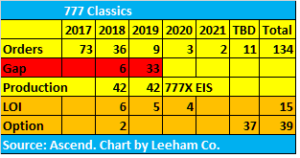 I get that Ascend isn't 100% accurate. But bear with me.
Ninety percent of the slots filled at a delivery rate of 3.5/mo (42/yr) is 38. So, 2018 is fine.
According to Ascend, 5 -300ERs TBD are Pakistan. I understand these are going to United. Let's assume these are in 2019. This takes 2019 to 14.
Six 777-200Fs that are listed as TBD are for Hong Kong Airlines. I'm not sure HK will take these freighters, but let's assume they do and let's say these are all in 2019 (unlikely they'd take this much F capacity in one year, but let's say they do.) That brings this to 20 deliveries in 2019. Iran Air, if consummated (and President Trump doesn't trump the deal), that's 25. That's 60%.
Even if the 2020/21 airplanes from Ascend are allocated to 2019, this becomes 74%. (The skyline can move around. These are 777Fs.)
I just can't get to 90%, even being most generous to Boeing.
Rate 2/mo
On the other hand, if 60% is the more realistic figure, this comes to 25 aircraft (60% of 42/yr)—or 2/mo.
There is still time to sell more Classics for delivery in 2019, but not a lot of time if these are -300ERs. Buyer Furnished Equipment (i.e., interiors) orders typically need an 18-month lead time for passenger models.
But as the entry-into-service gets closer for the 777-9 (right now, early 2020), the less likely 777-300ERs will be orders, or options/LOIs converted into firm orders.
Orders for 777Fs can be closer in.
What Boeing says
I reached out to Boeing's Corporate Communications in Chicago (the HQ) for comment. The reply was that there was nothing to add to what had previously been said.
Here is what CEO Dennis Muilenburg said on the earnings call and what Smith said at Barclays (emphasis added):
Muilenburg on earnings call, Jan. 25
Within the updated rate plan, delivery slots for the 777 are now nearly sold out for 2017. For 2018 and 2019 when we begin phasing in 777X production, we are now approximately 90% sold out for both years where, as a reminder, we will be delivering at a rate of approximately 3.5 per month. This rate plan includes the recent agreement from Iran Air for 15 777-300ERs, and we continue to work a number of 777 sales campaigns to fill out the remaining production slots. Based on the current sales environment, we believe the rate plan we've put in place establishes a production floor for the 777 program. And we have a strong foundation of 320 777 exporters and commitments that support our production plan for ramping up 777X deliveries.
Smith at Barclays, Feb. 23
Well, if you kind of just start with the market to the production rates, the commercial market. I think, the answer is yes there, as we see it today. But, what do we focused on, filling the bridge on 777, and we made great progress there and at the same time modify that rate down. But, we got work to do and we'll continue to keep everybody up to date on that, but that risk is definitely not at a different – it's had a different risk profile than it once was because of those elements. We're about 90% sold out in 2018 and 2019. And so, we're focused on filling at the same time, focused on keeping those folks in the skyline through that period. So getting through that, because if you go pass this, there is a big replacement cycle in wide bodies coming. So, we need to get through this transition in this, these areas of softness on the wide body. And then of course 87, we have making the final decisions on going to 14 a month. And so as that fits today, that looks good, but we're monitoring.
A350 trouble ahead?
There appears to be some trouble brewing for the Airbus A350.
United Airlines publicly said on several occasions that with the addition of 777-300ERs to the fleet, the order for 35 A350-1000s is being reviewed. UAL took the -300ERs on the cheap as Boeing struggled to fill the bridge between the Classic and the X. UAL officially ordered 14. Market intelligence says it's also taking the five previously ordered by Pakistan International Airlines, which is swapping these to 787s. There's been no announcement on this, however.
With the addition of perhaps 19 -300ERs, UAL doesn't need 35 A350-1000s. Would it want a small fleet of 16? Presumably not.
What to do?
United floated the idea of taking A330s instead. This could start to solve the problem of what to do with its aging fleet of 767s.
Over at American Airlines, market intelligence indicates that the New American Airlines finds the A350-900s surplus. These (22 of them) were ordered by US Airways, while the old American chose the 787 for its next generation of long-haul airplanes. The new American rescheduled the A350s once already.
Officials are trying to simplify the very diverse fleet of the combined US Airways and American, not add complexity. This raises the question about the future of the A350 order.
Like United, American could opt for the A330 to begin replacing the 767 on 4,500nm routes. AA already has the A330-200 in its fleet (from US Airways). But the A330-800 is different than the -200 and its range is well over 7,000nm.
It will be interesting to see how Airbus manages these new and unhappy challenges.
On a personal note
The National Geographic recently published this 13-minute video of an abandoned Russian city in Svalbard, north of Norway well inside the Arctic Circle. On a vacation a few years ago to Svalbard, one of the stops was this Russian city. Only about six Russians live there. Despite the long-term global politics, the Norwegian locals and American tour guides get along fine with the Russians. On a people-to-people basis, life is about getting along and helping each other. It's too damn bad the governments can't behave like the ordinary citizen.
My Svalbard trip reports are here, here and here.