29 January 2016, ©. Leeham Co: In the corner of two weeks ago we did a retrospective of 2015. Time for looking ahead. The year of 2016 will be quite interesting. We had entry into service of the first re-engine single aisle aircraft this week, the Airbus A320neo, the same week as we expect first flight from its main competitor, Boeing's 737 MAX 8. We will also see first flight of the Embraer E190E2 and A350-1000 before the year is over.
The Mitsubishi MRJ shall go test flying in earnest and Bombardier's CSeries 100 and 300 shall enter service. On top of that, the COMAC 919 will probably start ground roll tests this year and we should see roll out of Irkut's MC-21. I would say 2016 is a busy year for civil aviation.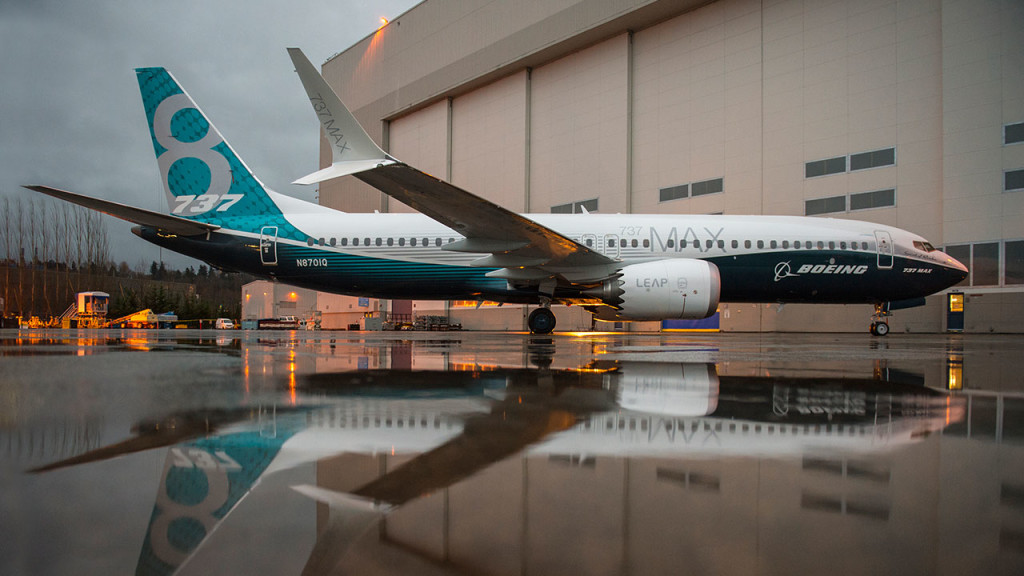 In the 2015 corner we talked a lot about engine technology as a key driver to further efficiency of air transportation. Now will dissect the airframe technology that all these new projects will bring us.
The A320neo is a straight re-engine program. It really doesn't bring any news on airframe technology. The 737 MAX is more of a mixed bag, even though design base is conservative technology. Apart from new engines we have new split wingtips, a cleaned up tailcone and Fly By Wire (FBW) spoilers.
The Embraer E190-E2 is classical in its structure but introduces advanced FBW. This takes the aircraft from having electrical transmission of control signals to the movables (stabilator, rudder, ailerons), so called open loop FBW, to having closed loop FBW. This brings adaptive tailoring of the movables deflection.
The difference is that you no longer command a certain deflection of the movables; you instead ask the FBW to give you a certain g force or pitch rate. It is then for the FBW computer to sort out how much movable deflection is needed to achieve what the pilot has asked for. In all, it enables flight mode protection and allows smaller horizontal and vertical tails to be used, i.e., it reduces airframe drag. Of the single aisles, the A320, CSeries and Superjet100 already have such FBW.
The Chinese COMAC 919 should technology-wise be similar to the E190 E2, i.e., classical aluminium construction and FBW. I asked Embraer last week why they did not introduce Carbon Fibre Reinforced Plastic (CFRP) to greater extent in the E190 E2. "Could it be that the material is too expensive?" It's rather the production tooling investments that makes it less viable for smaller aircraft projects, came the answer.
A classical CFRP production for a wing (really a wingbox) has several expensive tape layers, water jet trimming machines and a very expensive autoclave to cure the final components (wing skins, spars) in. Of the new projects, the most exiting one technology wise is not a western project. Irkut/United Aircraft's MC-21 project introduces a CFRP wing which is not cured in an autoclave. It is made with an Out-Of-Autoclave (OOA) process.
The MC-21 wingbox will be made with wingskins and spars made with dry Carbon Fiber which are injected with resin in a mold and then cured in an oven. The use of resin infusion of dry fibers lowers costs (no need of expensive tape layers and sticky prepreg tape) and increases flexibility (carbon fiber and resin can be stored long time, prepreg tape for the tape layer cannot). As a normal oven is used for curing, the manufacturing tooling investment is lowered.
Bombardier's Belfast plant builds the CSeries wingbox with resin infusion of dry fibers but it then cure in a classical autoclave. The MC-21 wingbox is realized by a composites manufacturing company in the United Aircraft group, AeroComposit. It's a sister company to the Irkut unit which developed MC-21. AeroComposites has worked on the Out-Of-Autoclave wingbox process since 2009 with leading western technology suppliers like MSTorres (Spain), Stevik (France), Fisher Advanced Composites and Diamond Aircraft (Austria). AeroComposites also involve the CFRP material companies Hexcel and Cytec (USA) in the program.
The first OOA CFRP wingbox was delivered to pre-Final Assembly Line (preFAL) a couple of weeks ago for final equipping with systems and movables.
It's a bit ironic that the most advanced technology of all the listed aircraft projects should come from the Russian single aisle project. Out-Of-Autoclave resin infusion is the way ahead for low cost CFRP production. The MRJ vertical tail's box is made with a similar process.
The major challenge is to achieve a manufacturing process that has a low level of porosity. Diamond Aircraft of Austria shall be the leader of forcing air bubbles out of the material. Lets see when one of the big two moves in on this technology.