Update March 26, 2015: The Marseilles prosecutor Brice Robin has confirmed that the co-pilot, Andreas Lubitz 28, from Montabaur Germany, put the autopilot on descent and was alive at the impact with ground, the accident is now turning from an involuntary to voluntary manslaughter investigation says the prosecutor.
He further revealed that the co-pilots breath can be heard on the tape as can the calls from ATC and the Captains efforts to enter the cockpit. The autopilots "Pull Up, Pull Up" can also be heard as the ground proximity warning triggered. Passengers screaming just before impact can also be heard. The co-pilot did not say anything but his breath is heard until impact. Research has failed to show any terrorist connections for Andreas Lubitz says Robin.
French news is now analyzing possible reasons for this act by the co-pilot pictured here in front of Golden Gate bridge: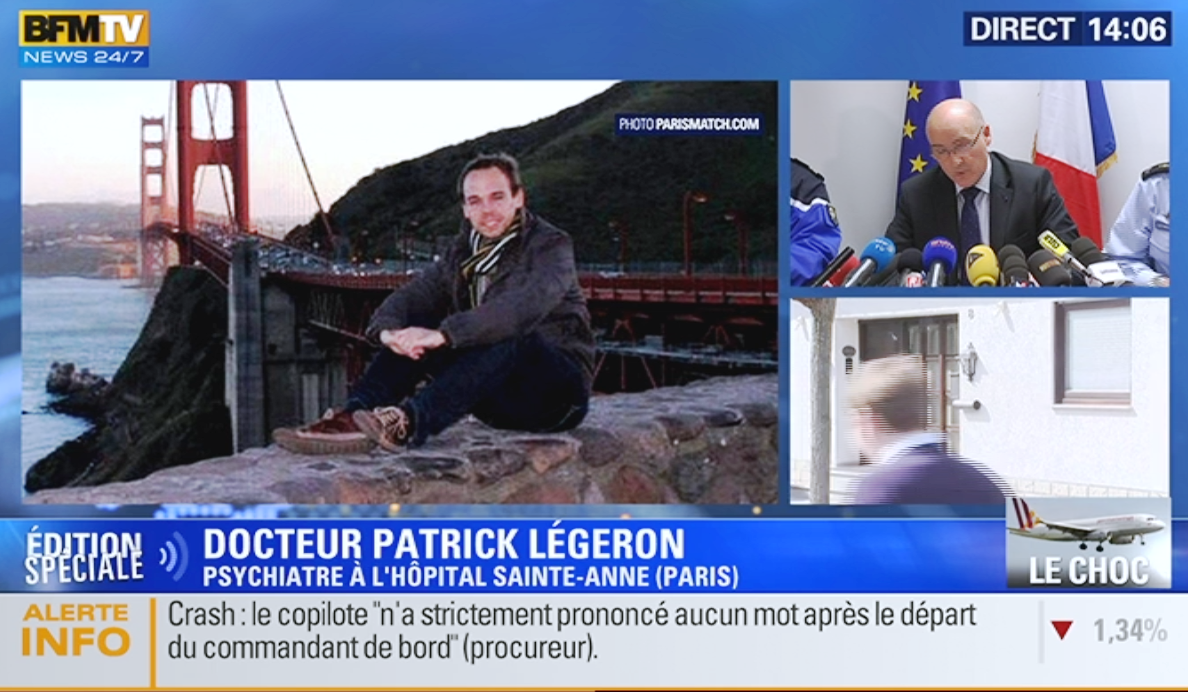 Flightradar24 has a private receiver network for the aircraft's intelligent transponder of type ADS-B. They now confirm that the aircraft's autopilot was manually changed from 38,000 to 96 ft at 09:30:55 UTC.
March 25, 2015: In a breathtaking, stunning revelation, the New York Times reported today that an investigator of the Germanwings accident says the Cockpit Voice Recorder indicates one pilot was out of the cockpit and was unable to get back in.
The pilot can be heard initially knocking on the door to gain reentry, then pounding on the door and yelling to the other pilot. No response.
The scene is horrific to contemplate: the passengers must have heard the locked-out pilot and became increasingly alarmed as the plane descended from 38,000 ft to impact at around 6,000 ft.
This scenario immediately raises two possibilities: an intentional act by the pilot remaining in the cockpit; or an incapacitating medical emergency occurred.
We spoke with John Cox of Safety Operating Systems and a former Airbus A320 captain to discuss this latest news. Cox is also a safety analyst for the NBC network in the US.