June 17, 2019, © Leeham News: Boeing executives focused on its top priority, returning the grounded 737 MAX, safely to service, in its lead off briefing today at the Paris Air Show.
Greg Smith, EVP of The Boeing Co., appeared instead of CEO Dennis Muilenburg, taking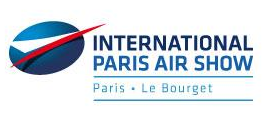 the lead in recapping much of what has been known for weeks: Boeing's regret for the 346 fatalities in the Lion Air and Ethiopian accidents, the MCAS software upgrade and working with airlines and regulators to determine the path back to recertifying the MCAS and the best curriculum for pilot training.
Boeing Commercial Airplanes CEO Kevin McAllister, Defense unit CEO Leanne Caret and Global Services unit CEO Stan Deal followed Smith in a tightly scripted set of presentations and answers to questions.
The four immediately left the stage after the Q&A instead of loitering for the usual press gaggles.