By the Leeham News Team
May 3, 2022, © Leeham News: A shakeout in the number of passenger-to-freighter conversion companies is coming, say industry stakeholders.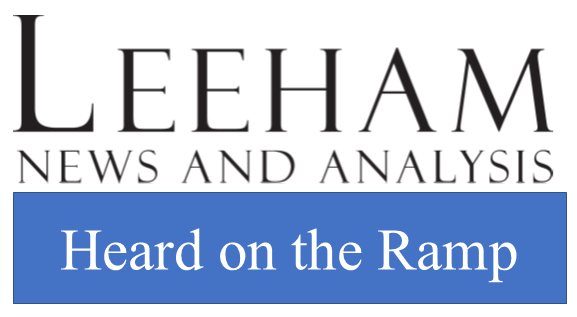 The conversion industry has seen a number of new lines and new entrants emerge as demand for air freight exploded during the COVID pandemic. But the long-term demand won't sustain these new entrants, said members of a panel in April at the Aviation Week MRO Americas conference.
There are now four companies offering Airbus A320 conversions: EFW, which is partly owned by Airbus; Precision Conversions; CCC (known as C Cubed); and Sino Draco. Some have yet to produce a converted A320 and EFW has multiple lines.
There are four companies offering Boeing 777 conversions: IAI Bedek, the first to market; Mammoth Freighters, the only one offering 777-200LR conversions; Kansas Modification Center; and Eastern Airlines. The latter is converting 777 passenger aircraft without cutting a big cargo door into the airplane, essentially maintaining the "Preighter" approach used by several airlines during the pandemic. The termination of the Boeing 747-8F production and aging 747-400Fs will boost 777 P2F sales, panelists said.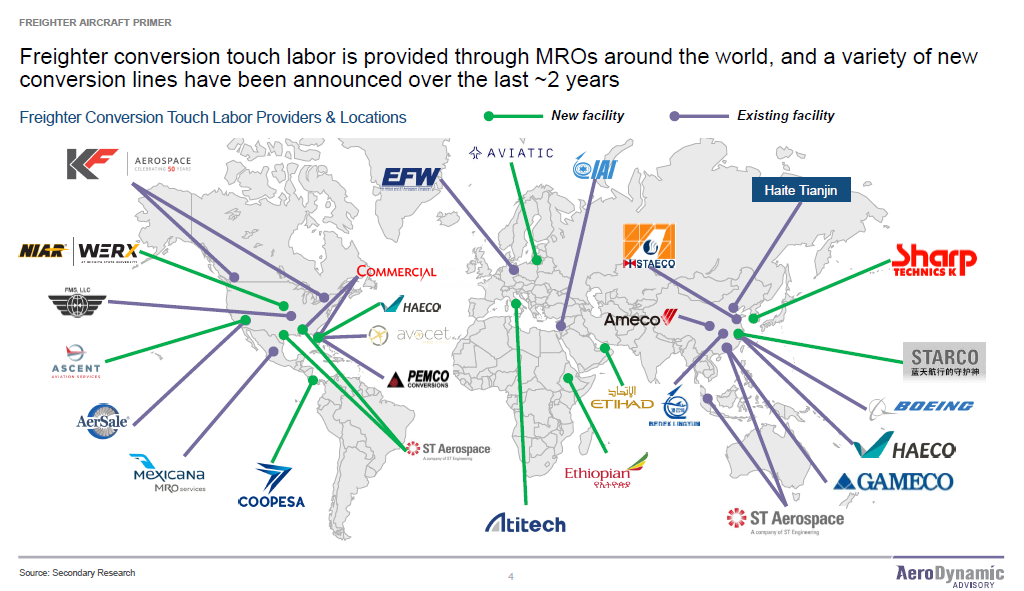 Boeing partnered with third parties to convert 737-800s. AEI is an independent 737 conversion company. It also converts Boeing MD-80s and Bombardier CRJs. The latter two programs were not commercial successes, admits Bob Convey, SVP of Sales and Marketing. AEI will only recover its costs for the CRJ-200 P2F. Only about 30 MD-80s were converted. Odd-sized containers make the CRJ and MD-80 less desirable than 737s and A320s, he said.
Many companies are "late to the party" and will fail, Convey said.
Embraer's challenge
Convey also said Embraer's announced program to convert used E-190s and E-195s into freighters will be a commercial failure for the same reason—an odd-size fuselage and incompatible cargo containers. Embraer sees a potential market of 700 over 10 years but Convey physically gave a thumbs down response to his view of the program. Verbally, he was more succinct: "Horse pucky. We looked at it, but with an odd cross section, we couldn't find a customer. Lessors are driving Embraer, and that's not a reason to do a program."
The CRJ competes with the ATR in the regional market. The E-Jet competes with the 737 and A320, he said. Embraer needs FedEx as a customer, but so far hasn't received an order.
Boeing moves 55 777Xs to iffy ASC 606 status
Boeing last week mov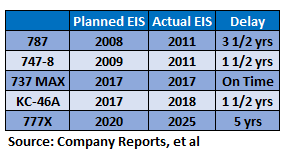 ed 55 orders for the 777X from firm to iffy under the accounting rule ASC 606. But this doesn't necessarily mean the orders are truly at risk. All the orders fall between now and 2025, the new target date for certification and delivery. Accordingly, the orders must be renegotiated with the customers. Under the accounting rules, these must move to ASC 606 until definitive contract changes are agreed upon.  While Boeing may face some tough negotiations, none of these airlines—except Cathay Pacific—can be assessed as financially in distress.
The 2022 year isn't even five months old, and Boeing already took or announced $2.24bn in charges.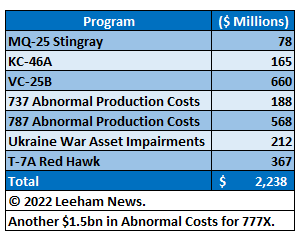 Another $1.5bn for Abnormal Production Costs for the 777X also were announced but will apply following the first quarter.