By Bryan Corliss
Analysis
June 11, 2019, © Leeham News: © — A deal by Mitsubishi Heavy Industries to acquire the CRJ program from Bombardier would make abundant sense for Mitsubishi Aircraft Corp –  taking a struggling competitor off the board, acquiring hard-to-find human capital assets, and taking over an established North American American supplier network and a global product support system.
And recent unconfirmed reports that MITAC also is considering a North American final assembly site would make a lot of sense for a company that's looking to cut production costs – and get closer to some likely key customers.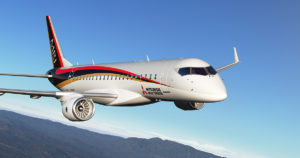 Yet while everyone in the industry is talking about the potential links between MITAC and the Montreal-based CRJ, nobody's saying much about the company's future in Moses Lake (WA). But overlooking Mitsubishi's growth over the past two years there would be a mistake, because the company certainly is acting like it intends to plant roots there in the Eastern Washington farm country.
A North American assembly site would bring significant savings;

Mitsubishi and Bombardier already have close ties; and

Signs point to MITAC settling in at Moses Lake for the long haul.
Yen, dollars and sense
On May 29, Nikkei Asia reported that MITAC is contemplating a name -change for its proposed MRJ70 project (to "SpaceJet"), and is scouting for an increased number of US suppliers and – potentially – even a US final assembly site.
Say what you will about the rumored name, but the other two notions make a lot of sense.
Airbus is assembling A220s in Alabama because US labor costs are lower and there's a competitive advantage in having final assembly close to major customers.
If the Nikkei Asia report is accurate, MITAC is seeing things in a similar light.
In Japan, more than a quarter of the population is older than age 65, according to the World Economic Forum. There's a significant shortage of workers in the country, to the point that retail giant Seven-Eleven Japan has backed away from a previous commitment to keep stores open 24 hours a day, the Japan Times reports.
The worker shortage has driven wages steadily higher. As a result, Japanese aerospace engineers are paid more than 75% percent more than their US counterparts, according to our online research. Pay data wasn't readily available for aerospace touch labor but comparing wages for automotive assembly workers shows the same result – almost 75% percent higher pay.
Canadian Loonies
The advantage is even greater if production moves to Canada, because the Loonie (C$1) is at roughly a 75%-percent exchange rate to the US dollar.
So, on labor costs alone, it makes abundant sense for MITAC to source more North American parts – and potentially have final assembly work across the Pacific as well.
In addition, US carriers make up the lion's share of buyers for current-generation regional jets. It will make a lot of sense – particularly in the early years of the SpaceJet program – for MITAC to be close to customers.
One more thing – Bombardier may only have about 50 more CRJs on its books, but the plane could provide an interim solution to airlines who need to replace their aging regional jets now, not in 2023 when the SpaceJet enters service in any kind of numbers.
Much as Boeing offered airlines deals on 767s as "interim lift" during the early years of the 787's teething pains, MITAC could offer airlines a combination of CRJs and MRJs in deals to address their short- and long-term fleet needs.
Connecting flights
In addition to the numbers, there are qualitative advantages to a Mitsubishi-Bombardier tie-up that may be harder to add on the spreadsheet, but would no doubt bolster the bottom line.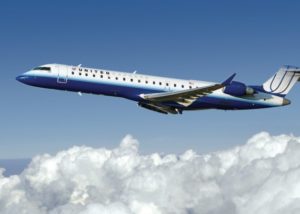 As many have noted, Bombardier's CRJ program has the kind of human capital that MITAC lacks, in terms of customer fleet support, marketing and management.
Taking over the CRJ program also would jump-start MITAC's efforts to establish a North American supply chain.  Supplier relationships already exist, making the contracting and retooling tasks that much easier.
In addition, the broader Mitsubishi already has insight into Bombardier's culture in that it's a Tier 1 supplier for Bombardier's Global Challenger business jet series.
Finally, key members of MITAC's senior management team – including Chief Development Officer Alex Bellamy and Vice President of Flight Test Operations Chris Anderson – worked at Bombardier before joining Mitsubishi. The Mitsubishi-CRJ acquisition, in that sense, would be a deal to reunite former coworkers who are some of the world's most-experienced experts in the regional jet space
Site selection
The question would be where to put final assembly?
Obviously there will be tremendous incentive, – cash and otherwise, – to keep production at Mirabel. Last year, Bombardier announced plans to slash 3,000 Canadian jobs as part of a global restructuring of its aerospace business; over the past three years, it has eliminated more than 14,000 jobs globally.
Just yesterday, Reuters reported that Quebec's economic ministry won't invest in the CRJ program, but it is interested in saving jobs. If MHI buys the CRJ program, Quebec may rethink its position to provide support for a transition for an MRJ final assembly line to supersede the CRJ.
Bottom line: It would make a great degree of sense to retool the Mirabel plants to handle MRJ final assembly, utilizing the existing workforce and that aforementioned established supply chain.
Other possible locations
But speakers at last month's I-90 Aerospace Corridor Conference in Coeur d'Alene (ID) made some compelling arguments for why their region – centered on Spokane (WA), but stretching along 300 miles of the Interstate 90 highway from central Washington to western Montana – is poised for growth in aerospace.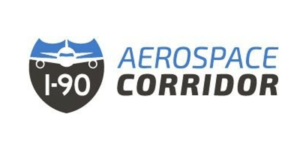 The region around Spokane already represents the fifth largest aerospace cluster in North America, according to Todd Woodward, the marketing director at Spokane International Airport. There are more than 100 suppliers – mostly Tier 3 and 4 shops, but also some major players like Triumph Composites and Collins Aerospace – who provide everything from interiors to aerostructures to painting.
The I-90 Corridor is close to the cluster surrounding Boeing's plants in Puget Sound, but it's a world apart in terms of cheap land, electricity and especially labor, Woodward said.
Average hourly pay in Spokane county is $20.73 an hour, according to the state's Department of Employment Security, compared to an average of $31.12 an hour in King County, where Boeing Commercial Airplane has final assembly, fabrication and administrative facilities.
The region also is home to five universities that produce engineering and business school graduates that companies need, Woodward said.
Moses Lake, I-90's western frontier
MITAC has settled in Moses Lake, the western edge of this corridor, and it's reaping many of those benefits.
Average pay in the county surrounding Moses Lake is even lower, at $17.72 an hour, and the town is home to Big Bend Community College, which is home to a aircraft maintenance training school where flight test mechanics can earn their Federal Aviation Administration certification as airframe and powerplant technicians. It also has a school to train commercial aviation and drone pilots.
Moses Lake and the Inland Northwest also have an increasingly rare precious commodity: – wide-open airspace, said Steve Chrissman, the manager of Eastern Oregon Regional Airport at Pendleton (OR).
"Empty air space is a new diminishing natural resource," Chrissman said. His airport (140 miles south of Moses Lake) has become a year-round flight-testing base for six drone manufacturers, including Yamaha. Six other companies sent teams to town regularly for flight tests.
There's so much activity that the community has decided to invest $13 million to build a business park for the UAS manufacturers, Chrissman said.
"We've had 50 to 100 people year-round, making $50 an hour, staying at hotels, shopper and eating in restaurants," he said. "Now, they're starting to buy houses."
Overall, conference speakers claimed that the I-90 region has almost all of the benefits of the Southeast United States, in terms of cost, with the added bonus of being close to Boeing and the Puget Sound cluster, and having access to the job-training pipelines established to feed workers to the aerospace giant.
Planting roots
The Pacific Northwest Aerospace Alliance recently gave MITAC the group's annual Inspire Award, citing the company for its efforts to spark interest in the aerospace industry.
Within its first year of setting up shop in Moses Lake, MITAC had invited 600 ninth-graders to tour its facilities as part of a STEM education enrichment program. The company also is funding vocational scholarships at the community college, according to PNAA. And the company has hosted Japanese music and cultural events.
Moses Lake has a long history with Japanese aerospace, having hosted Japan Airlines flight crews training on Boeing 747s for decades. Interestingly, this 23,000-person farm town in the middle of a county that voted 65% percent for President Trump has competing sushi bars. (Locals on Yelp tend to favor Samurai Steak and Sushi. If you go, they say, try the Cowboy Roll, which is spicy crab meat and avocado wrapped in rice, topped with seared filet mignon, scallions and a mix of eel sauce, spicy mayo and sriracha – so, basically surf-and-turf with a Tokyo twist.)
What does this all add up to? Frankly, while it's not impossible, it's hard to see MITAC (or any other OEM) putting a final assembly site in Moses Lake. 
MITAC is gearing up for a major push to train pilots on its new MRJs, Bellamy told reporters after the company held a grand opening for its new US headquarters in Renton (WA). One simulator is in place, and a second will be installed shortly.
But Mitsubishi will likely be flight-testing in Moses Lake (first MRJ90s, then SpaceJets) for at least the next five years, and it's easy to project that after that, the company would want to retain the Moses Lake facility as a flight crew training center, similar to the ones Boeing operates in Miami and elsewhere around the globe.
That would mean a long-term presence in the skies above eastern Washington's farm country, and on the ground, teams of mechanics, spares and logistics personnel, simulator techs, trainers and translators, all of them buying homes and cars and Cowboy Rolls.