By Scott Hamilton
Sept. 25, 2020, © Leeham News: Commercial aviation has had 70 years to use jet fuel safely. It's unclear how long it will take to reach the same level of safety with hydrogen, say Boeing.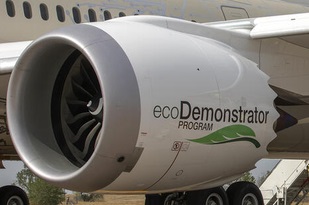 In a briefing Tuesday, the day after Airbus revealed its hydrogen powered concepts for three potential airliners, the vice president and general manager of product development expressed caution about hydrogen as a fuel source.
Unique promise, ensuring maturity
Mike Sinnett said hydrogen has "unique promise just looking at the chain of how it can be created and consumed and the emissions that result. The difficulty is always around the practical implementation and engines and how you ensure that the regulatory environment and the technical environment progressing together and maturing at the same time.
"We have come to enjoy a significant level of safety and it's improved dramatically over the course of the last 70 years of the jet age," Sinnett said.
"We know a lot about how kerosene is burned and how it can be stored safely, how it can be transported and how engines use that fuel in all environments from the Arctic to the desert.  We've got a wealth of knowledge and experience that makes the air transportation system very, very safe today," he said.
Sinnett said that as the industry transitions to more sustainable fuels, it's necessary to ensure that there's no backpedaling in those levels of safety.
That means that there's still a lot to learn about how you would create and transport hydrogen and use it in all operational environments, from the Siberian winter to an Algerian summer, he added.
"The safety requirements regulations have to mature at the same time that the technology matures. I believe we see promise in a transition to more hydrogen-based fuels over time. However, I would caution that I don't believe it's something that's right around the corner. There's a lot of infrastructure and regulatory framework that has to evolve with the technology. That is not a fast process," he said.
Electric power
For a time, the buzz seemed to be leaning toward electrically power airliners. However, as LNA's Bjorn Fehrm detailed in a lengthy series on the subject, the limitations of electrical motors for large airliners are huge. Airbus also downplays the use of electric motors on airliners the size of the A320.
Sinnett doesn't see this technology around the corner for anything larger than small airplanes.
"With the technology that we have [in the] next five years-ish timeframe, the electric technologies are sufficient for smaller airplanes in shorter ranges," he said. "There's something intuitive about that when you think about how the technology advanced for automobiles."
He said automobiles are now getting to the point where the ranges are getting close to the ranges of a gasoline-powered or a diesel-powered automobile.
"You also probably have a sense for how much weight is involved [for] the batteries that are in those automobiles. Automobiles are certainly a lot less weight sensitive than aircraft are," he said.
With current battery technology, there are applications where shorter ranges with much smaller airplanes are practical today, he said.
"However, when you look at our business and the air transportation business, and you project forward in the near term, applications are going to continue to be for smaller airplanes over shorter ranges because the energy density and the power density in current battery technologies, and even in the battery technologies that are in labs right now, aren't sufficient to be able to do the mission of today's single-aisle turbofan powered airplanes," Sinnett said.
"There probably isn't a technology on the horizon yet that would allow long haul operations done by today's twin-aisle airplanes like a 777 or a 787 on alternate technologies. Those are further down the line," he said.
Hybrid power
Hybrid technology only complicates things. Instead of one technological power source, there are two.
"For hybrid solutions, one of the other things to think about is the complexity of the hybrid architectures can negate some of the benefits. If you have an electric motor and you have a turbo gas turbine, now you've got two things on the airplane, where in the past, you might have only had one," he said.
Two different sets of technologies carry more weight and more complexity.
"We always have to make sure that the benefits and the fuel burn and emissions outweigh the detriments of the increased complexity and weight," he said.
A future article will detail things Boeing is pursuing in eco-aviation.