MHI to acquire CRJ program.
MHI will acquire the maintenance, support, refurbishment, marketing, and sales activities.
Deal worth $550m in cash, $200m in assumed liabilities, $180m in a securitization program.
Transaction to close first half 2020 subject to regulatory approval.
June 25, 2019, © Leeham News: Mitsubishi Heavy Industries and Bombardier today announced an agreement in which MHI will acquire the CRJ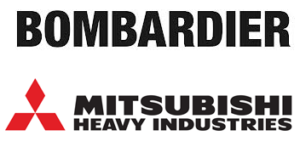 program, subject to customary shareholder and regulatory approvals. Closing is expected in the second half of next year.
The CRJ program includes the airplane, the global product support and sales force, manufacturing facilities and other assets. A CRJ installed customer base of 1,300 airplanes and more than 130 operators worldwide.
"Bombardier will continue to supply components and spare parts and will assemble the current CRJ backlog on behalf of MHI. CRJ production is expected to conclude in the first half of 2020, following the delivery of the current backlog of aircraft," the companies said in a statement.