Update, 8:45am PST: Boeing sent us this breakout of 777 and 737 orders:
777-300ER: 49
777 Freighter: 14
777X: 220
737 MAX: 891
Original Post:
Boeing received 1,550 gross orders and 1,432 net orders in 2014, one of its best years.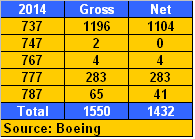 As is typical, the narrow-body 737 was by far and away the leader in orders. Boeing doesn't break out the 737NG v 737 MAX in its monthly table. The 777 was buoyed by firming up the massive number of 777X commitments announced at the Dubai Air Show in November 2013. Although Boeing doesn't break out, in this table, the 777X v 777 Classic, the company ended the year with around 60 777 Classic orders, an important number to fill the production gap we and others have been writing about last year.
The 767 commercial model continues to wind down, as the last ones off the line–all freighters–get delivered. The line will shift over to solely the USAF KC-46A once the 767Fs are delivered.
The 747-8 put in another dismal year, with two gross orders and two cancellations.
Boeing delivered 723 airplanes last year: 485 737s, 19 747s, 6 767s, 99 777s, 114 787s.
Reuters has this update of Airbus' order position through November, in advance of the annual Airbus press conference on Jan. 13, where full year numbers will be announced. Airbus has a habit of finishing Decembers with a surge of orders, often topping the Boeing numbers.