A second aerospace analyst has weighed in with the opinion that Boeing is likely to choose a replacement for the 737 rather than a re-engine solution.
Heidi Wood of Morgan Stanley published this note today, as Boeing's investors' day begins.
The bottom line – Another New Plane Ahead – BA's Going To Do A New Single Aisle: We believe Boeing will be announcing a new narrowbody replacement to the well-worn and highly popular 737 instead of the less costly, but inferior solution of re-engining.
This means a $13B-type R&D effort ahead in lieu of a possible $2-3B R&D for re-engining, which was previously in our model. We are now lowering outyear estimates to reflect a projected new narrowbody 2012 launch and 2017-2018 entry into service (EIS, first delivery). We believe consensus earningsexpectations will be revised down significantly on higher R&D.
Why An All New Plane? We expect Airbus to announce an A320 re-engining sometime before yearend; BA will likely announce its plans around the same time. It is not generally known, but on a re-engine to re-engine equivalent basis, we believe the Airbus A320 ends up w/ a 8-10% better fuel burn than the 737, rendering the $3B R&D cost to re-engine largely ineffective. The 737 has been refreshed three times already since its first inception in 1967. And with 5 low end single aisle competitors ~mid-decade, we think BA is prudent to be pre-emptive with an all-new airplane.
Joe Nadol of JP Morgan and Joe Campbell disagree, thinking a re-engine is more likely.
So does Boeing rival Airbus, where COO-Customers John Leahy suggests all the talk about a replacement 737 is Boeing disinformation aimed at muddying Airbus' waters.
Leahy believes Boeing would be foolish to proceed with a new airplane with a 2019-20 EIS (that predicted by Buckingham Research; Wood predicts 2017-2018, which we think is perhaps a year or two two soon), only to be followed by an all-new, much more efficient A320 replacement in the 2025-27 period.
Airbus is betting that the Open Rotor engine will be the solution rather than the PW GTF or CFM Leap-X engines, which are being considered for re-engine solutions.
At the Airbus Innovation Days, Leahy displayed several charts that showed fuel burn improvement and residual value data to make his case for a re-engine program.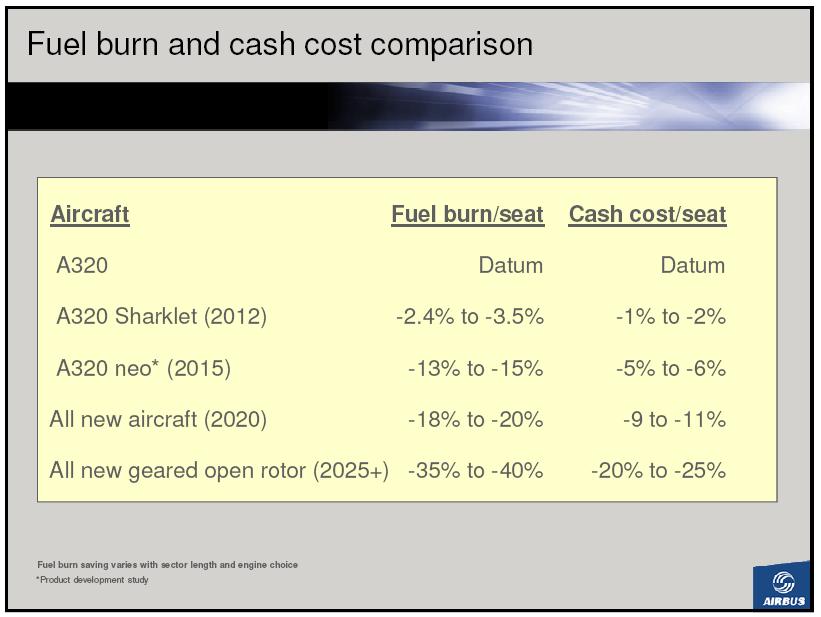 There is concern over the impact of a new, derivative airplane on residual values. Leahy pointed to the transition from the Boeing 737 Classic to the 737 New Generation as the example why RVs won't plummet with the introduction of a New Engine Option.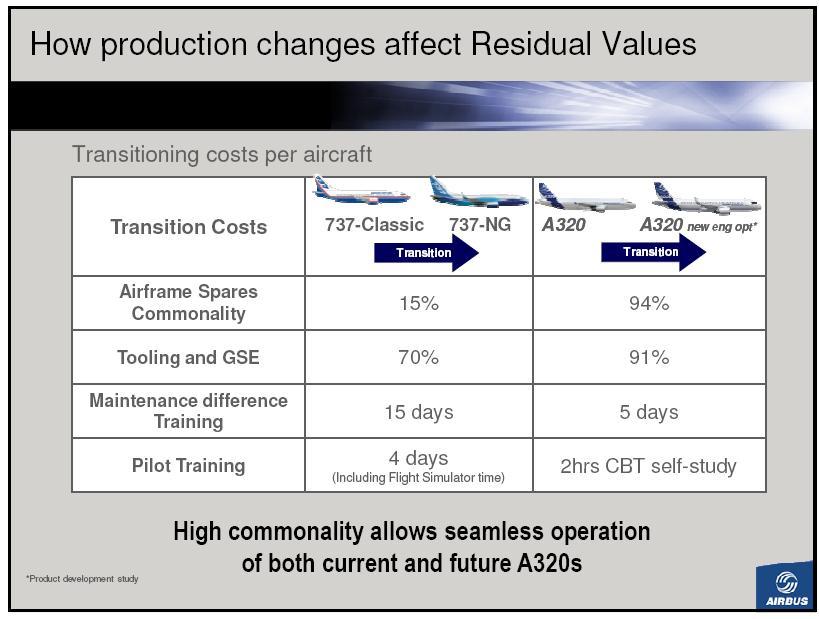 The following chart further supports Leahy's contention that current generation values won't plunge with an A320 NEO offering.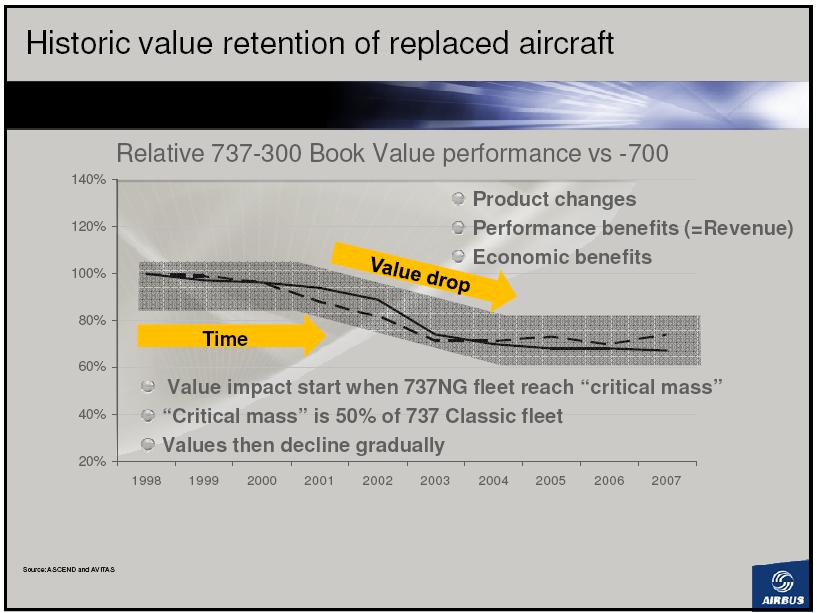 Finally, Leahy displayed this chart concerning the prospect of a 737 NEO.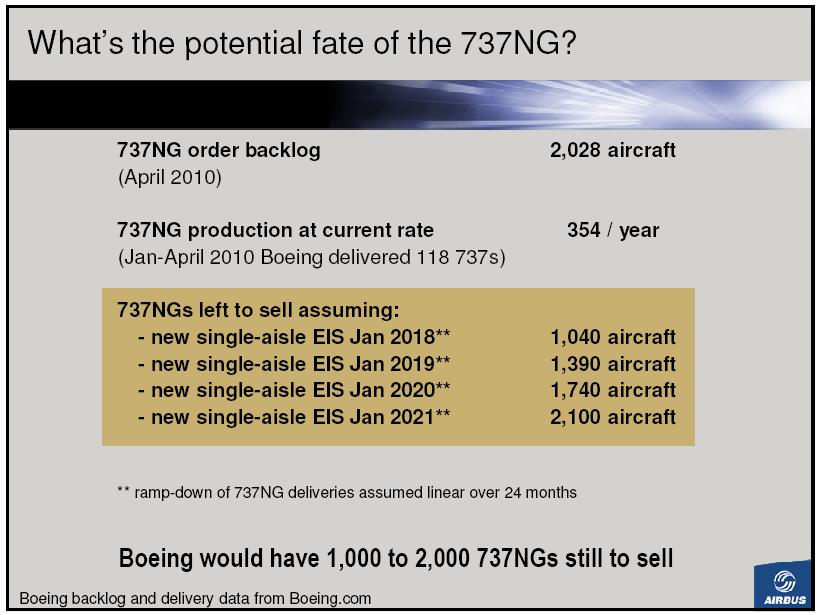 Bombardier believes it will still have advantages with its CSeries over either an Airbus or a Boeing NEO. These charts are from their ISTAT presentation.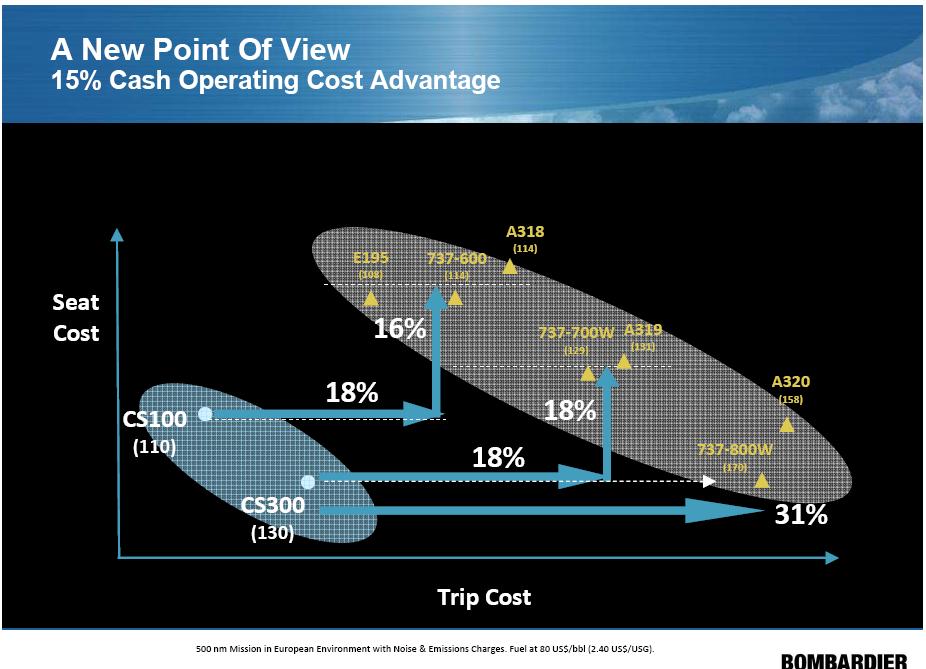 BBD vs RE