By the Leeham News staff
May 11, 2021, © Leeham News: Domestic traffic throughout the world is returning to 2019 levels, but at different rates, according to an Airbus analysis.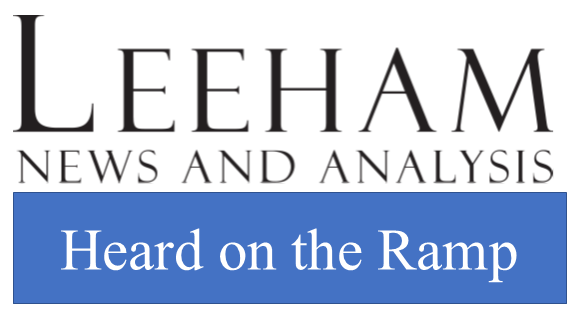 Robert Lange, Head of Business Analysis and Market Forecast, said today that the fragmented cross-border travel regulations and uneven vaccinations continue to inhibit passenger traffic recovery from the COVID-19 pandemic.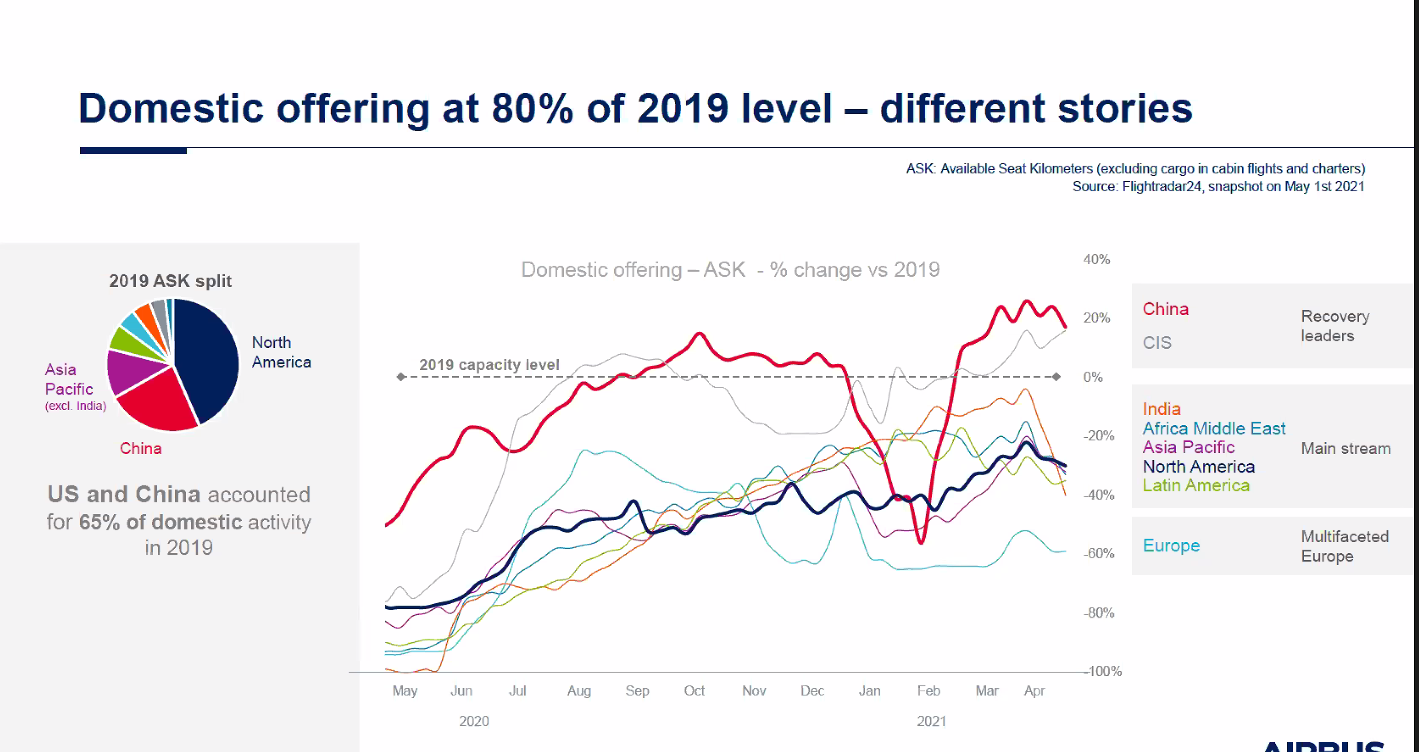 International traffic recovery sharply lags domestic recovery, Lange said.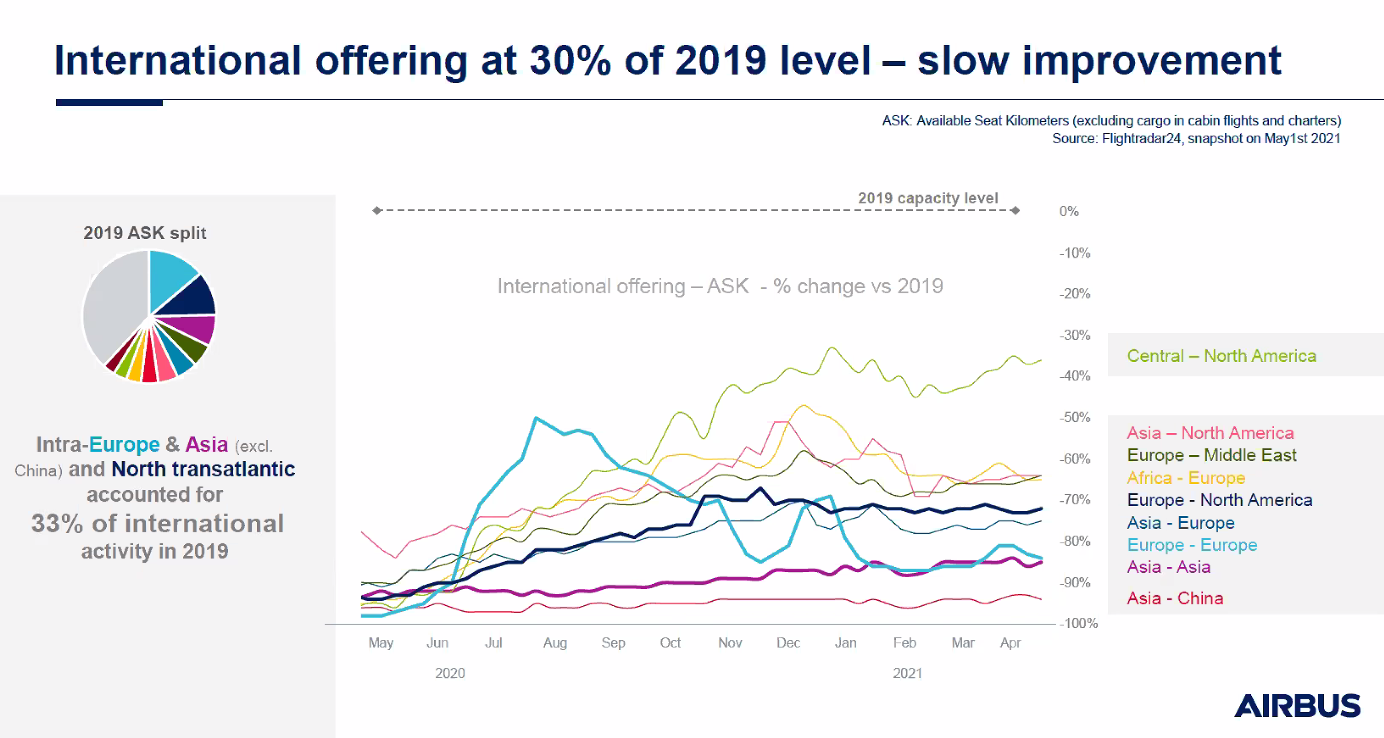 But there is a major pent-up demand. Looking at just the United Kingdom, Lange said Airbus saw a spike in trip selection.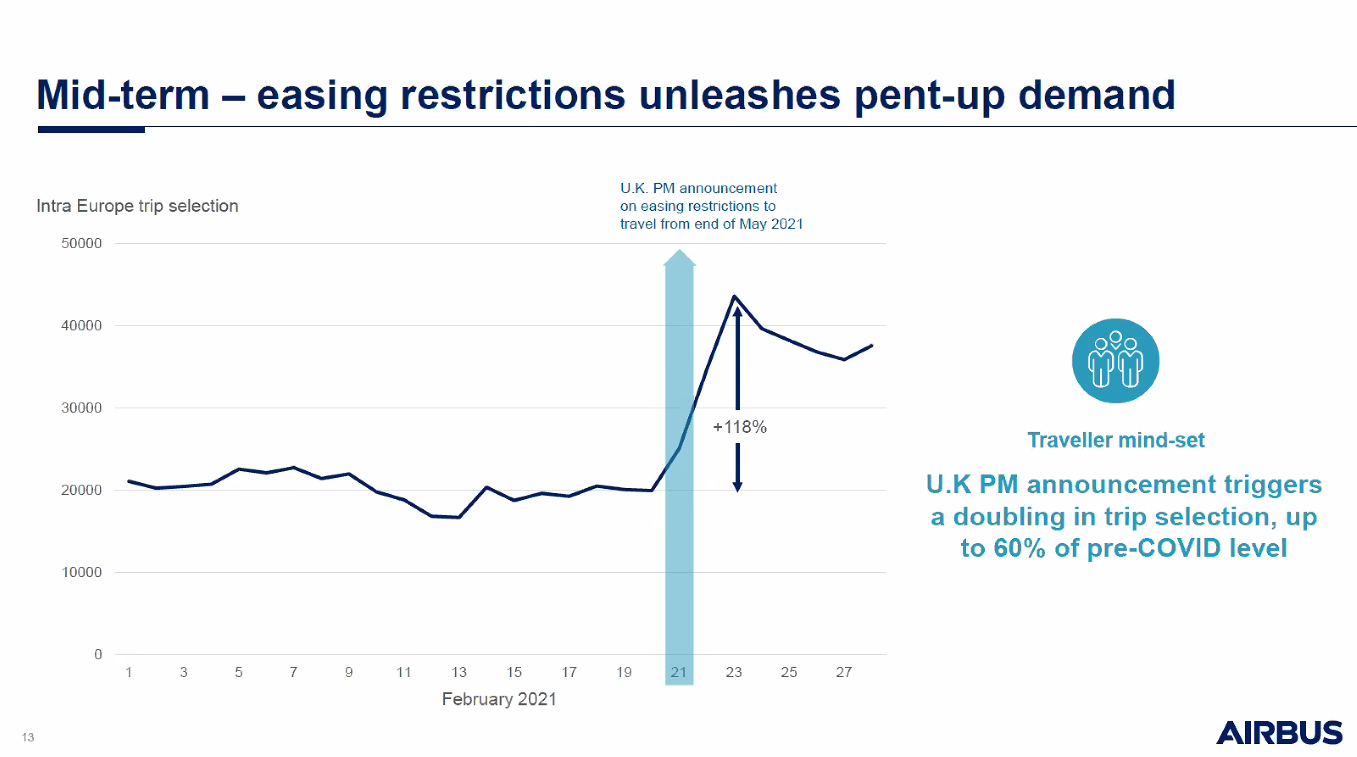 But full economic recovery will still drive recovery in passenger traffic, he said.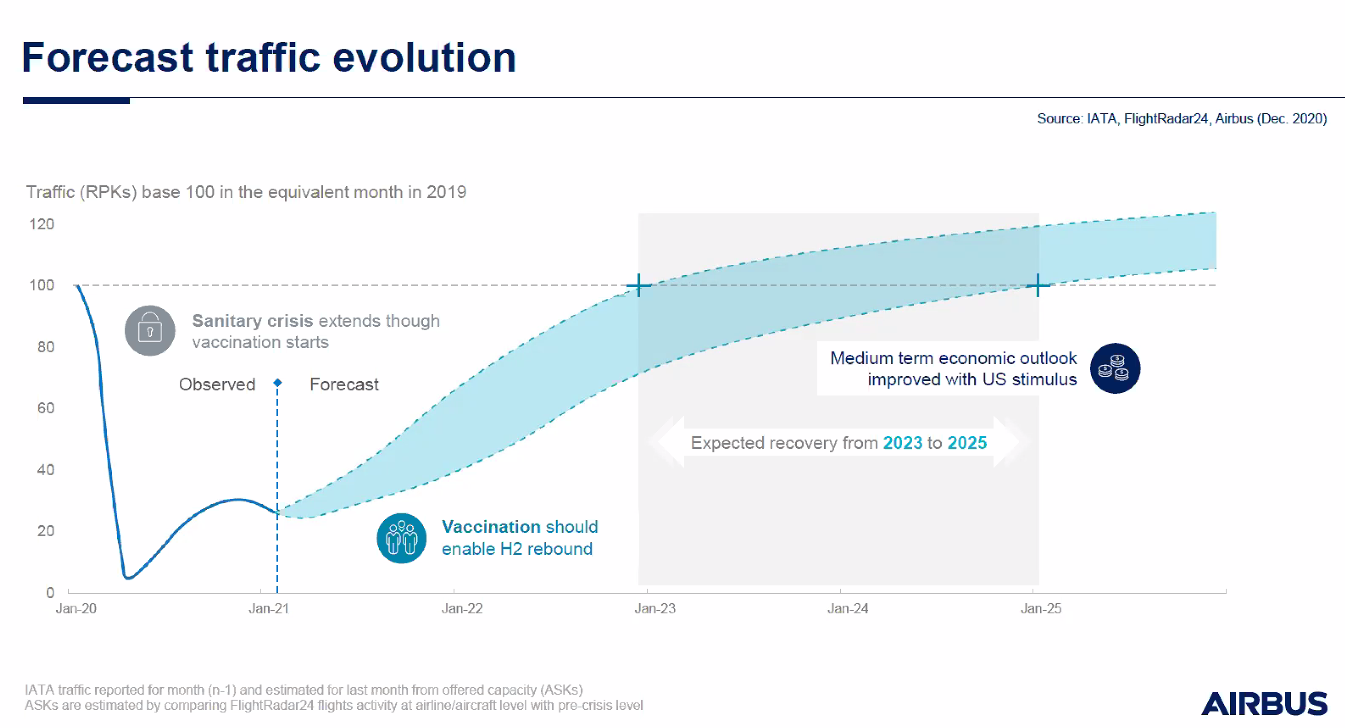 JP Morgan report
JP Morgan's airline analysts recently visited Southwest Airlines and American Airlines. In a subsequent note to investors, two segments are worth reprinting here.
Southwest Airlines
Why double-down on Boeing? We asked about the MAX 7 vs. A220 (aka the old C Series) procurement process. The bottom line, besides the attractive unit prices implied above, is that Boeing can simply deliver more MAX 7 aircraft over the coming years to fulfil LUV's fleet ambitions.
Pilot training cost, simulators, technology, buildings, basically the entire sunk cost 737 infrastructure of course created a high bar for Airbus to hurdle to make the A220 work. Southwest management also highlighted the fact that the opportunity to really hedge the fleet by adding a second type will come when the MAX is replaced (timing TBD, but we have long held the view that the MAX is a transitional program with a production lifespan that will likely be shorter than prior versions).
American Airlines
Is an international rebound this summer really off the table? We were initially surprised that during its recent conference call, American downplayed the increasing likelihood of a June EU reopening, at least to vaccinated Americans (it's unclear whether the U.S. would extend the same courtesy to inbound European travelers). Our interpretation of its comments was that it's simply too late for Europe to meaningfully benefit 3Q leisure trends, and that current capacity plans are largely baked.
American offered more insight, citingthe example of a 787 that could generate roughly 10 hours of utilization flying three daily round-trips to Colombia, at respectable yields and load factors in the 80% range. True, American could stretch utilization closer to 14 hours if redeploying said aircraft to, say, a Transatlantic segmentlike Rome, but bookings wouldhave to start from scratch and profitability would suffer. We think this is an important point. While the Big Three couldquickly redeploy capacity across the Atlantic should the EU reopen, that doesn't necessarily mean they should, save for markets like Greece and Iceland which announced their intention to reopen to the vaccinated with greater lead time for bookings to muster.· Have union priorities changed?