Subscription Required Now open to all readers.
Introduction
Oct. 6, 2016, © Leeham Co.: Airbus' reorganization continues to unfold, with key components to be revealed, including key personnel appointments.

LNC sat down in Seattle with Barry Eccleston, president of Airbus Americas, at the conference Tuesday organized by the British American Business Council Pacific Northwest to talk about the moves. We also discussed the recent decision by the World Trade Organization (WTO) upholding an appeal by the US Trade Representative (USTR) in the 12-year old illegal subsidy cases between the US and European Union over government aid to Airbus and Boeing.
A decision on the EU appeal against the US and Boeing is expected to be issued after the first of the year.
Summary
Reorganization eliminations duplications.
Desire is to become more agile, flexible and competitive.
No comment on whether the EU will appeal the WTO decision handed down last month.
Two cases against Boeing (the US and Washington State) will see decisions next year.
Discussion
LNC: Bring us up to date on the progress of the reorganization.
BE: All the fine details are still being developed. [But] it's not merging all the units into Airbus. Up until last Friday, we had Airbus Group, which was like the parent company. The other three divisions were called Airbus, which was actually the commercial airplane business; Airbus Defence & Space under Dirk Hoke; and Airbus Helicopters under Guillaume Faury. Fabrice Bregier of course runs the Airbus business.
So you had the parent company and the three divisions. We've merged Airbus Group, the parent company, into the Airbus business (the commercial unit). Airbus will now be known as Airbus Commercial Aircraft.
The helicopter business and defence and space business have not been merged. They are still their separate and own businesses. They still report to Tom Enders as the head of the Group.
Tom at Airbus Group and Fabrice at Airbus business brought their organizations together. Tom remains CEO of the group. Fabrice becomes COO of the whole group and remains president of Airbus Commercial Aircraft.
LNC: What is the objective?
BE: The objective is for Fabrice to spread his excellent operational capabilities across the whole group. Dirk Hoke and Guillaume Faury have also got cross-group responsibilities.
Dirk is going to be looking after all of future business models. Guillaume Faury, as well as helicopters, will have all of engineering activities across the group. It's becoming more of a matrix organization across the whole group.
LNC: What other benefit do you get out of this?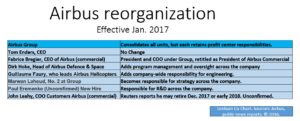 BE: Another key element to this is that by merging the group, you rationalize the dual structures. Tom, at the group level, had his own HR (human resources), compliance, procurement, etc. Fabrice, at Airbus commercial, had the same functions. Clearly, we can merge those.
It's recognizing the strengths of Tom and Fabrice and setting up a very strong management team, one with an external face, which is Tom's strength, and one with Fabrice, who is very strong operationally.
It's also a way to rationalize what was previously in effect with a dual structure and save costs. The decision-making is more agile. Locating everybody together. And it's a way of giving each one of our divisional leaders responsibilities across the group, to spread best practices across the group.
The details of all this have yet to be worked out.
LNC: Boeing continues to have divisions that have their own profits centers. Why does Airbus think these moves are better than Boeing's way?
BE: Fabrice is still president of Airbus Commercial Aircraft and responsible for its profits. It's still his business to run. Same thing with Guillaume for helicopters and Dirk for Defence. Where the profit lies hasn't changed.
Where it is better is eliminating the duplication of all these support functions: finance, HR, supply chain, legal, communications, government relations….
The reason for all this is to make the company more agile, more efficient, more competitive, all things a good business leader wants to do with his company.
WTO
LNC: Let's talk about the WTO. The decision came down on [the US] appeal [whether the EU complied with an earlier ruling]. The EU found for the US. It's been reported in the press that Airbus [in reality, the EU] will appeal the narrow point of how the interest rates were calculated. Is the EU going to appeal?
BE: I have no further light on that at the moment.
LNC: The USTR and Boeing put out figures that Airbus got $22.5bn dollars worth of benefit, compared with Boeing's $5.7bn of benefit. Are those numbers that you would agree or disagree with?
BE: We would disagree with them, obviously, and if and when we do make an appeal, the explanation of why disagree will become apparent. The $22bn is kind of like if I borrow a loan to buy my house. I take out a loan and then I pay the interest on it. The $22bn. If you like, is the loan, it's not the interest, which is the issue that has been discussed at the WTO level. I think Boeing is mischaracterizing the issue here by throwing out the $22bn.
We don't agree with that number, but we also don't agree with the way they characterize it.
LNC: They've done a very masterful job of messaging on it, you have to admit.
BE: They have a lot of very highly paid professionals whose job it is is to do messaging.
LNC: When does the Boeing side of this come down? News reports say it will be next year. Next year is 12 months long. Do you have any better understanding when that is going to come down?
BE: Yes, but it's not something that is up to Airbus to comment. It is government-to-government negotiations and it is up to them to make any statement.
But as you know, there are two cases against Boeing. There is the federal issue on subsidies and there is the case against Washington State for tax subsidies.
LNC: Which would you say is, for the lack of a better word, the more dangerous to the US or Boeing?
BE: I'm not going to comment on that. You could argue it's all dangerous or none of it is dangerous.
LNC: I know from talking with Airbus and you know from my own writings since the beginning of this that I think this whole WTO thing is a waste of time. Would you agree with that?
BE: Those are your words, not mine. What I would say is that this has been going on 12 years, and what have we got? Has anything changed? If we go on for another 10 or 12 years, what is going to change, and when?
What we've done so far, it's not apparent to me where it's all going to lead to.
If you remember, about 15-16 years ago there was a Brazil vs Canada (Embraer vs Bombardier) case before the WTO. As far as I could figure out, although the WTO did rule that both Brazil and Canada had done things they shouldn't, nothing changed in Brazil or Canada.