By Bjorn Fehrm
October 11, 2016, ©. Leeham Co: Alitalia, Air Berlin and now Monarch have all filed for insolvency since the start of 2017. These are all airlines with an emphasis on low cost flying, with an important leisure part. Alitalia and Air Berlin had histories as network carriers, which hasn't helped.
What happened in summary; When the European low-cost market got rough, their cost levels weren't tough enough.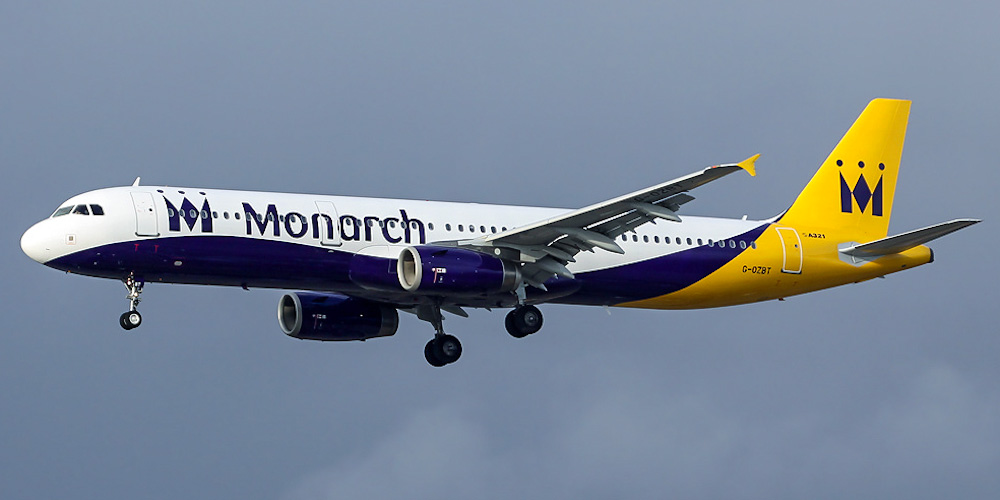 Monarch's fall
The Monarch fall was abrupt. Where Alitalia and Air Berlin still flies (Air Berlin until 28 October), the British Civil Aviation Authority (CAA) decided 1 October to not renew Monarch's Air Travel Organisers' License (ATOL).
Though the ATOL is only an insurance scheme for leisure trips (CAA gets you home if the airline folds), CAA deciding that Monarch was in bad shape, would hurt traveler confidence.
So despite the ATOL flights being only a small part of the Monarch operation, the discontinuing of ATOL protected flights, meant the company was done. The company had been in trouble for some time and the public would be sensitive to any signals that things had turned worse.
On morning the 2 October, the company's owner since 2014-10, Greybull Capital, called quits on injecting more capital (last it injected £165m in 2016-10) and PWC was called in as administrators. The company stopped all operations on the day.
CAA then began organizing how 110,000 travelers protected under ATOL could be brought home from Monarch destinations. The administrators are working on what to do with the 300,000 that have booked tickets or charter trips with Monarch as carrier.
A tougher market
What's the background to Monarch's fall?
Monarch operated as a charter and low cost scheduled flights operator to 40 leisure destinations from the UK, mainly to destinations around the Mediterranean.
Since 2015, terrorism in Egypt, Tunisia and Turkey has forced leisure flight operators to bunch together in the West Mediterranean. To classical destinations; Spain, the Spanish islands and Portugal.
This increased competition with the likes of Ryanair, easyJet and Norwegian hurt Monarch. It didn't have any wealth of destinations outside the competitive area.
On top, Monarch earned its revenue in Pound Sterling, while it had its costs (fuel, aircraft rentals) in Dollar and other costs in Euro. Since the UK Brexit decision June 2016, the Pound Sterling has fallen 20% versus the Dollar and Euro, effectively increasing cost for fuel and aircraft rentals for Monarch.
After bailing out the airline at last year's ATOL renewal, the owners decided to not inject more cash this time. The stop of operations came within one day.
The companies 25 A321 and nine A320 (+ one 737-800) is standing still since last Monday.
The market shakeout
With the folding of Alitalia, Air Berlin and Monarch, the question is does it stop there?
Of the large LCC players, Norwegian Air Shuttle (Norwegian) is the weakest. Its balance sheet (the cushion for rough times) is the weakest, with only 8% own capital. And this after having sold some of its assets in June.
The dominant Ryanair has its homemade problems, but its balance sheet is ultrasolid. Number two, easyJet is also in good shape. The operations works and the balance sheet is in good health with 45% own capital.
Is Norwegian next?
It will be interesting to follow Norwegian. It had a substantial operational loss in 2Q2017, after a bad May.
Yields (revenue for sold seats) have continued to decline for the third quarter months, July to September, compared with the same months 2016.
And costs are up compared with the same months last year. It's all in Norwegian's monthly traffic statistics.
The 3Q2017 report is due in two weeks, 26th of October.
The company has further reserves it can sell, especially the Norwegian Bank shares. But how valuable are these if the Airline it supports is on the ropes?
Ryanair's CEO, the outspoken Michael O'Leary, said a month ago, he expected Monarch and Norwegian to not last the winter. For Monarch we know he was right.
For Norwegian, how much was it Norwegian stealing O'Leary's pilots? And how much was sound business analysis?