By Bjorn Fehrm
07 October 2015, ©. Leeham Co: This year's ISTAT Europe conference had been characterized by a "Steady as you go" ambiance until the traditional match between Airbus and Boeing on "Large aircraft segment" panel got going. This is normally when things can get a bit more exiting and this year's version did not disappoint.
Airbus' Mark Perman-Wright, Head corporate and Investor marketing, kicked off the jabbing during his coverage of all the usual segments, claiming that Boeing got to know that Airbus held the upper hand in just about all airliner segments.
Randy Tinseth, Vice President Marketing for Boeing, immediately responded that this was all wrong and that indeed Boeing was the market leader in all imaginable measurement dimensions.
The audience of 1.200 financiers, lessors, airlines, consultants, etc., could see that a drastically lower fuel price had changed nothing. Airbus' and Boeing's fight over the market dominance, both real and verbal, is as fierce as ever. As we could get a hold of Boeing's presentation and both OEMs followed the same route through their product programs we will use Tinseth's slides as a base for our ringside review.
Both OEMs choose to start with their weakest segment, the VLAs. Their focus was colored by where they had business, with Boeing describing their recent order for 747-8F and other freighters: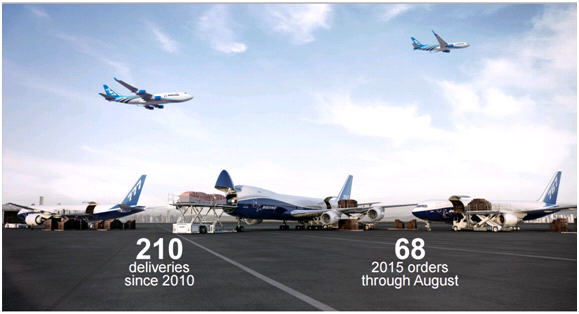 Airbus focused its part on how much better the A380 is getting without changing engines. Through several cabin programs, the operator would gain $23m in revenue on a yearly basis given increased cabin density and re-position of galleys etc. It is clear that both OEMs have disappointing sales in this market and therefore give the segment prime exposure during any customer facing activity.
Next up was widebodys. Airbus proved that they had outsold Boeing in the 300 seat widebody field by 561 airplanes since the 787-9 was launched in April 2004. They achieved that by bundling A330-300, -900 and A350-900 sales to a total of 1,255 orders. Boeing has in the same time sold 691 787-9, -10 and 777-8X said Airbus.
Our comments are that the 777-8X does not belong here; it is a competitor to the A350-1000 at the 350 seat level. Furthermore, 300 seats is a bit narrow, normally the segment would be 250-300 seats and the A330-200/-800 and 787-8 would be counted in. That would change the picture to more of a 50:50 basis. If one goes 300-350 seats instead, the 777-300ER sales of 700-800 units in the period would tip the balance in Boeing's favour versus the A350-1000's 172 orders.
Boeing focused the segment time on its success with the 787. Here a slide with some key numbers: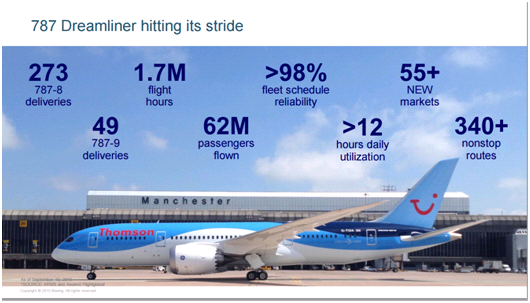 Boeing then chose to go on attack regarding the perceived insufficient range of the 787-10. Tinseth showed this picture, which establishes that Airbus has a much larger problem with its widebody portfolio regarding range that does Boeing with the 787-10: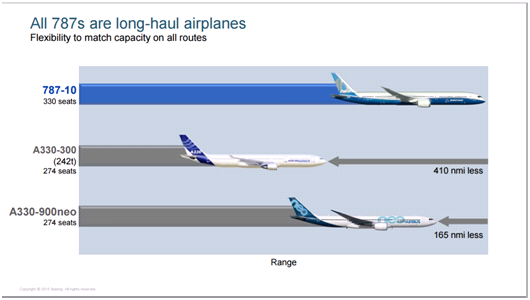 Tinseth's argument was that all 787 aircraft are long range and they fly further than the competition. In a subsequent discussion, Airbus and Boeing agreed that Boeing has been the stronger in the widebody market but Airbus disputes that this will continue now that it has A350 and A330neo.
Finally the parties got to the single aisle corner of the ring. Here things got a bit muddy. Pearman-Wright showed how Boeing's 737 MAX has gotten 3.1t heavier whereas the A320neo has stayed at 1.6t for the Pratt&Whitney's GTF and 1.9t with CFM's LEAP. "When they start as the same level, the MAX then is heavier," continues Pearman-Wright.
This is the key, they don't. There is plenty of data out there (Turkish Airlines fleet sheets for their A320 and 787-800 being one source) that show the 737NG is considerably lighter than an A320ceo.
Pearman-Wright then focus on the fact that the P&W A320neo has confirmed weight, -15% fuel consumption and can take-off with up to 2t higher take-off weight. He said delivery to launch customer Qatar Airways will happen before year end.
Tinseth said large 737 operators like RyanAir have not ordered their replacement 737NGs yet. The MAX therefore has a large captive market still not harvested: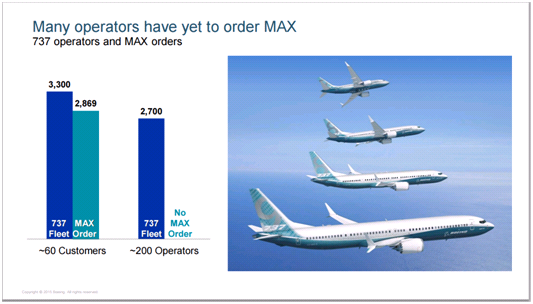 Tinseth's argument was that the MAX has an operator base which is more conservative with orders (RyanAir, Soutwest), whereas Airbus has booked mega orders for carriers with relatively small to no A320 fleets (Indigo, Norwegian). This increases the risk of overbooking by Airbus.
In summary, the only thing one can get these OEMs to agree on is that they cannot agree on anything of substance in the market. I guess that is how it should be.