Subscription Required
Introduction
By Bryan Corliss
May 10, 2019, © Leeham News: Senior officials of Mitsubishi Aircraft Corp. said they'll announce a new concept to replace their proposed MRJ70 at next month's Paris Air Show. But they're keeping details to themselves until then.
"We've got a couple rabbits in our hat," said Alex Bellamy, the chief development officer for the MRJ program. "We'd like to keep them in our hat for now. But rabbits have a habit of bouncing."
Bellamy spoke with a handful of industry reporters Friday at a roundtable following the formal grand opening of Mitsubishi Aircraft Corp America's new office in Renton (WA). The event – which included the ceremonial opening of sake barrels with hammers–attracted senior executives from MITAC's headquarters in Nagoya, Japan, and local business and government leaders.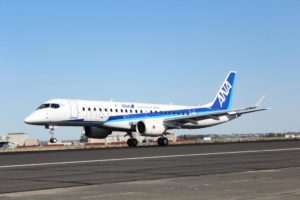 Mitsubishi is flight-testing the 92-seat MRJ90 in the skies above Moses Lake (WA). But in Nagoya, engineers are working on a clean-sheet design for a 76-seat, three-class regional jet.
It's what the market is calling for, Bellamy said, and right now, there's a declining number of competitors willing to provide it.
Summary
One competitor is going, the other doesn't have a modern, Scope-compliant aircraft.
50-years opportunity.
Combining comfort and new-technology economy